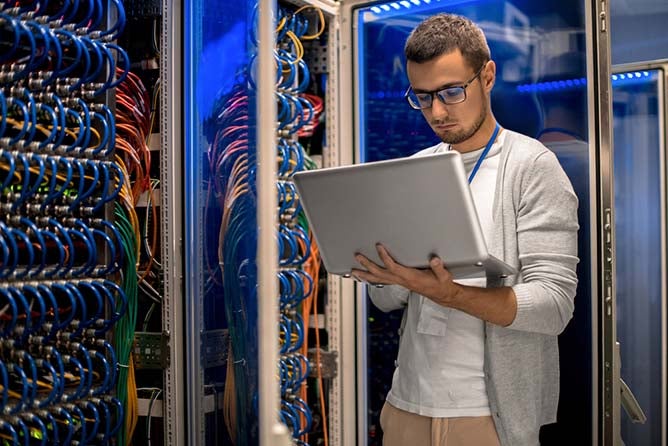 In today's technology-focused world, every industry needs skilled professionals who know how to maintain systems, develop applications, and manage everything in between.
Computer science jobs can be found in nearly every sector and every field, and by earning a degree in computer science, you could set yourself up for a lucrative career in a growing industry. A 2018 report by the National Association of Colleges and Employers noted that computer science majors start out earning, on average, $66,005—a starting salary second to engineers ($66,521).
If you're looking for a well-paying job in an evolving field, a computer science degree could be the first step toward a fulfilling career. Here are five computer science jobs to consider.
1. IT project manager.
Between supervising teams, overseeing project timelines and goals, and providing technical advice, IT project managers have a hand in nearly every element of a company's technological projects. They coordinate schedules and budgets and guide employees to meet project goals.
To be an effective IT project manager, you'll need technical knowledge of hardware and software, strong problem-solving skills, and solid data analysis skills, Project Manager says. You'll develop these skills—and more—in a computer science program through courses in web development, data management, and communications. Glassdoor estimates that the average annual salary for IT project managers hovers around $97,000.
2. Data scientist.
If you're good at analyzing data and statistics, a career as a data scientist could be right for you. Data scientists use communication, programming, and problem-solving skills to create and manage systematic analyses of information sets. According to Medium, data scientists frame and identify a problem, collect data, then process and analyze that data to fully understand the problem. Finally, they communicate their findings and proposed solutions to their higher-ups. Being good at statistics and analyzing data pays well: data scientists make about $117,000 a year, Glassdoor says.
3. Systems architect.
If building something from the ground up sounds more up your alley, consider a career as a systems architect. Systems architects develop networks or computer systems from scratch and then put processes in place to keep those systems running efficiently. To accomplish those tasks, they lean on a solid foundation in software, servers, security protocols, and hardware.
A computer science program prepares you for a systems architect career by training you in—among other things—computer architecture, scripting and programming, and data algorithms. As a systems architect, you'll get to express your scientific and creative sides and be paid well in the process: PayScale reports that systems architects make an average salary of nearly $109,000.
4. App developer.
App developers design and create applications for phones, tablets, and other devices and build the back-end processes that keep those apps up and running. According to Career Explorer, app developers work with data scientists and graphic artists to engineer the software behind applications, and they use their knowledge of coding languages like CSS and Java to manage and maintain the app and ensure it continues working without any hitches. App developers make nearly $69,000 a year, according to PayScale.
5. Video game designer.
Designing video games gives you the freedom to flex your technical and creative muscles. According to Career Explorer, video game designers bring games to life by developing the plots, characters, and visual design for those games. But narrative and visual development isn't all that a video game designer does; they also build the scripting and algorithms that sustain the game on the back end, and they test the game with focus groups and benchmarks and adjust the code as necessary. Being paid to play can be fun and lucrative: PayScale says that video game designers make just north of $64,000 a year, on average.
Preparing for computer science jobs.
A bachelor's degree in computer science is the key you need to open up any door in the IT field. The program trains you in the fundamentals of information technology and allows you to specialize in a specific area, such as security, systems management, or data analysis.
Landing a computer science job is just the first step. With the right degree and experience, you could be climbing the IT ladder straight into the corporate suite.