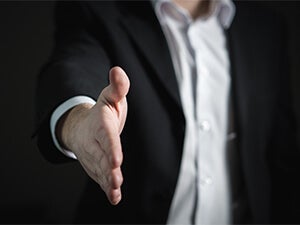 The team at Western Governors University Career & Professional Development is here to help you get the job you want!  WGU Handshake has some nifty features that can help take your job search to the next level.   
1) Check your homepage.

This may seem like a given, but we have been pinning important information and recommended actions to help you get noticed. Don't miss it! 
New announcements "suggested by your career center" are now pinned on your homepage. You will find relevant articles, resources, and opportunities that we think you need to know about.  
Prompts are now also appearing to encourage you to take various actions that help connect you with employers virtually. Follow employers to get alerts about new jobs and virtual events, save postings, and update your profile and interest fields to show up in relevant recruiter searches.   
Finally, we are introducing a new collection of recommended employers that have been actively posting on WGU Handshake, and adding a "Fresh" tag, to help you better notice currently active opportunities.  
2) Search by job label .
We have added public labels to job and internship postings to make finding the roles you are most interested in, easier. When you login to WGU Handshake, click "Jobs", open the filters, and then find "Labeled by Your School" at the bottom of the page. To find jobs that are recruiting students within your academic college or for remote roles, add the following labels:  

College of Business   
College of Health Professions   
College of Information Technology   
Teachers College      
Remote Role   
Don't forget! You can also add additional filters or keywords to narrow down your search!   

3) Make your profile public .

Did you know that completing and making your profile public makes you 5x more likely to get a message from a recruiter?   

With the Community Privacy option enabled you can fully participate in the Handshake experience through all the peer-to-peer features that exist like Q&As, viewing job and interview reviews, and filtering students/alumni at WGU, and other universities as well.  Learn more about the Profile Privacy Option in Handshake. 

4) Make your resume visible.

Making your resume visible on your profile helps employers recognize you as a strongly qualified candidate. While private documents can be attached with job applications to specific employers, employers searching Handshake for a candidate like you will not be able to view it.   

Making a resume public opens up opportunities such as being included in resume books that employers request from our office. Learn more about Understanding Document Visibility.  
5) Manage your notifications.

Handshake has released three new push notifications for users of the mobile app that aim to keep you informed of important information:  

A new digest of relevant jobs has been created: Job digests are one of the most successful methods of finding timely and relevant job information. This notification will let you know that a refreshed batch of recommended jobs awaits you on Handshake.   
Your job application was reviewed: Read more about the "reviewed" status here. This notification lets you know that a recruiter has seen your application.   
You've been added to an event from the waitlist: This is sent when a career services staff member moves you from an event waitlist to the registration list.   
Learn more about Managing your Notification Preferences, or Contact WGU Career & Professional Development for additional support with your job search needs today!