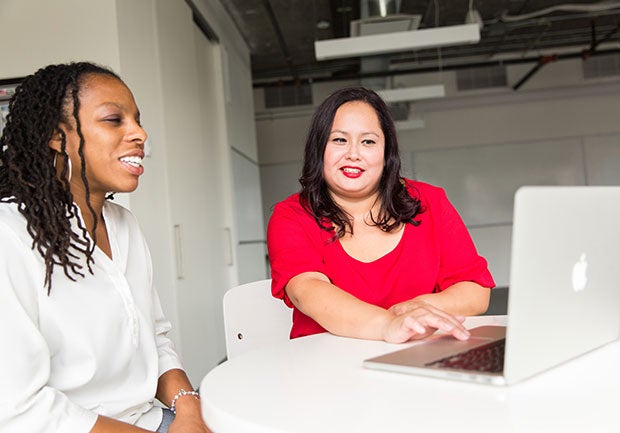 Happy New Year!  Did you know that January is National Mentoring Month?  With the beginning of a new year, it's a great time to reflect upon your professional goals and ways to reach them.  Connecting with a professional mentor can provide great value and enrichment related to the development and attainment of your professional goals.  Want to make the most of your professional mentoring connection?  Follow these five helpful tips:
1. Recognize the full value of connecting with a professional mentor.  Selecting and securing a professional mentor may provide you with invaluable perspective and guidance.  A professional mentor may also serve as an ally, a sounding board, an accountability partner for your professional goals, and a connector to other professionals in the field.  Be sure to show appreciation for your professional mentor's time commitment and support by sending thank-you notes/e-mails, as well as serving as a resource yourself by sharing information on topic(s) of interest to the mentor. Also, when selecting a professional mentor, it is helpful to consider someone who you admire professionally and/or who may possess a similar professional philosophy to you.
2. Schedule regular meetings and be prepared for each meeting. Holding and planning for regular meetings will allow you to make the most of your time with your professional mentor, and providing an agenda of topics which you would like to discuss will help to provide continuing structure to your conversations. While there is not one designated timeframe for mentor meetings, you may want to consider meeting monthly an hour or a half hour.  You may also include agenda items such as a case study to discuss, progress toward a professional goal, or a professional article that you would like to review.

3. Ask thoughtful questions to learn more about your professional mentor's philosophy, approach, and experiences.  The following questions provide a strong platform with which to engage in meaningful conversations with a mentor:

What's the best advice you can give to help plan a career rather than simply work to keep a job?

How do you encourage innovative ideas?
How would you describe your personal style?
Do you have a mentor? How have they influenced you?
What do you do to constantly challenge your underlying beliefs and assumptions?
Would you do anything differently if given the opportunity?
How and where do you find inspiration?
What values are you committed to?
How do you balance your work and home life?
Do you have any books that you would suggest I read?
4. Keep an ongoing log of insights and knowledge gained through the professional mentorship.  Documenting your insights and knowledge on a regular basis will allow you to process and retain the content which you are learning and discussing. You may also want to document ways in which you may directly apply the knowledge which you are gaining.
5. Consider connecting with multiple professional mentors over time.  It is very common to obtain a great deal of knowledge and insight from one particular professional mentor while also wanting to seek other perspectives from other professionals in your field.  Even if a formal mentorship period ends, you may want to keep these mentors in your life. In many instances, professional mentors with whom you connect may stay in touch throughout the course of your entire career. However, it is also common to connect with different mentors related to different parts of your professional goals.  For example, you may want to connect to one mentor for their leadership experience and another mentor for their data analysis skills.  The more perspectives and professional connections which you are able to make, the more diverse your professional philosophy and approach may be.

If you would like to speak with a WGU Career Advisor further about the benefits of a professional mentorship, please feel free contact us.  We are also available to discuss a strategy to locate and approach professional mentors, and to assist with all aspects of the career development process!