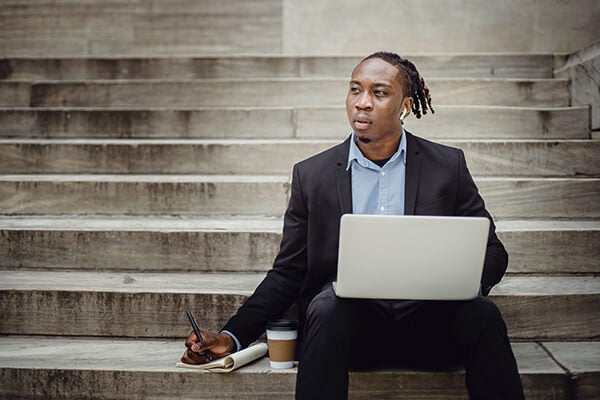 WGU Handshake is most frequently used as a job board by students and graduates. It makes sense too. Finding jobs and internships is easy to do in WGU Handshake. Currently, there are over 4.6K active jobs and internships listed in the system. If your profile is near completion, and you have a strong resume loaded in WGU Handshake, applying is also simple. Just use the filters to surface the opportunities that are a good fit for you. Click "apply," and it is really that easy.

One of WGU Handshake's more unknown and underused features is its employer research functionality. You can discover more information about 550K+ employers who are using the system to recruit students and graduates just like you.

Here are some ways to maximize the employer research tool to boost your job search today:

Get started. Start by logging in to WGU Handshake using your WGU username and password. Click the Employers tile box at the top of the home screen.
Discover employers near you. Don't see any jobs or internships of interest near your location? Take it upon yourself to be proactive and search out the opportunities! Once you navigate to the Employers area, you can use the filters on the left-hand side of the page to drill down items such as location, employer size, and industry. Looking for employers in Internet & Software within 50 miles of Seattle, WA? Good news! There are currently 443 registered employers on Handshake, of all sizes. After identifying an employer of interest, click on the employer name to learn more. Click on the star-shaped "follow" button to receive alerts via email regarding future employer events and virtual career fairs with WGU.
Explore employer reviews. Now that you have discovered some employers of interest in a location you want to work, discover what your peers across universities using Handshake are saying about them. Reviews are an opportunity for students to share feedback on internship experiences with other students, graduates, and their employer. Handshake encourages students to provide honest, constructive feedback regarding their experience with employers. Get the unvarnished truth from others who have been there before. Simply click "review" under the employer's name.
Find and connect with WGU alumni and staff at organizations that interest you. Now that you have had a chance to find an employer of interest near where you are located and read student reviews, go further by connecting with alumni and other students who have indicated they interned or worked at the employer of interest. After clicking 'See All' you can view all students or graduates who indicated in their Handshake profile that they interned or worked for a specific employer. Use the left-hand filter bar to find students in certain majors, at a certain school year level, or find those who have attended WGU.
Regardless of how you are using WGU Handshake, researching employers should be something you add to your toolbelt to bolster your job search! For additional assistance with WGU Handshake or any additional career questions you may have, please contact WGU Career & Professional Development.