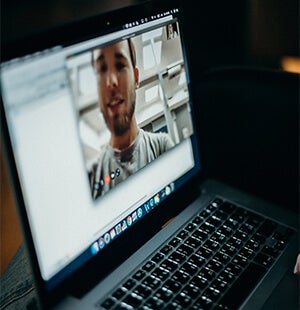 Many organizations are moving to video interviews. Although your preparation will mirror that for an in-person interview in many ways, there are a few additional key aspects to consider to make sure that you are fully prepared for the opportunity. 
Set yourself up for success. Thinking through everything that you will need to be able to successfully attend your virtual meeting on-time and without issue is imperative to a successful interview experience. Make sure that you have a functioning web cam and a strong internet connection, along with information regarding what meeting platform you will use. 

Read through any directions that were shared by the recruiter or hiring manager and download all necessary software. Waiting to download all required programs until the day of the interview puts yourself at risk of showing up late, a major red flag from the hiring manager's perspective.
Develop a personal checklist. What items do you need to have in place to ensure your success? Write down a list that you can move through to ease your nerves and help you feel prepared. Here are some items to consider:
Webcam and audio is working.
Work space and background is clean and clear of distraction (family members are informed, and pets are situated). 
You have information regarding how to log-in to the interview (this should come from the recruiter or hiring manager). You also have downloaded software related to the meeting platform.
Glass of water.
Pen and notepad.
Copy of resume.
You have a professional outfit selected (solid colors tend to be less distracting on video). Research the company via their website, Glassdoor, and LinkedIn to gain ideas about company culture and common workplace attire.
3-5 questions that you would like to ask the interviewer(s) at the end of the interview.
Set your phone to silent or remove it from the room.
Plan for flexibility. As prepared as you are, there is always a risk that something could go wrong. Spending a few minutes thinking through a few backup plans can be helpful in case you experience challenges. Make sure that you have a physical copy of contact information of your recruiter or hiring manager on hand in case of technological challenges.

Test your space and practice (a lot). If you can, it can be helpful to record yourself in your space prior to the interview. This not only helps you make sure that the space is clear and looks professional, but it also helps you practice and become more comfortable in front of the camera. Practice your "pitch" (i.e. tell me about yourself), and other common interview questions. Maintain appropriate eye contact and review your non-verbal communication. You can find lists of common questions, strategies, and even practice via video on our comprehensive interviewing system, Big Interview. Explore all of our interviewing resources in Handshake, or reach out to schedule a mock interview with a Career Advisor today!