Did you know that September is International Update Your Resume Month? It's always helpful to keep your resume updated, but in case you needed a reminder to add a recent experience—here it is!
Once your resume is updated using the resources on our website, you can upload the file to Handshake to share it with employers. It can be used to apply to job postings, and you can also use your uploaded resume to complete your Handshake profile! Completed profiles are more likely to be reviewed by employers and are 5x more likely to receive a message from a recruiter.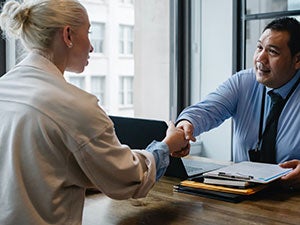 Once you have uploaded a resume to Handshake, be sure to set it to "Public" if you would like to share it with employers. This allows employers to reach out to you for opportunities that may not yet be advertised in the system.
In addition to using your resume to complete your Handshake profile, there are a few other sections we recommend that you complete to get better recommendations from the platform:

Job Type – Include if you are looking for an internship, part-time job, or full-time job.
Location – Select the cities where you'd like to work so that Handshake can show you jobs in areas of interest to you.
Job Role – Choose the types of jobs you'd like to explore, like software engineer or project manager.
Filling out these sections helps you get better recommendations from Handshake and takes less than 5 minutes to complete. If you're trying to maximize your use of Handshake, you may also want to watch our Handshake walkthrough videos. These videos cover the most important aspects of Handshake, and how to navigate the system.