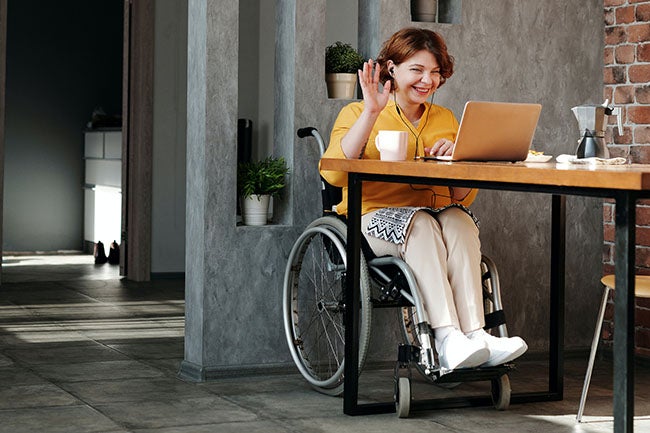 Remote work opportunities have become much more common in today's workforce. Maybe your employer made this transition due to the health and safety protocols, or you are considering that choice for yourself and are looking to possibly transition into a new position. Will a remote position be better for your lifestyle? How do you determine that remote positions will work for you?  To really consider this, you first need to do some self-reflection to figure out what type of working environment you thrive in.
As you start to think about the remote job search process, consider reflecting on the following questions:

Is working remotely actually the right fit for me?
Creating a pro/con list helps to weigh if this remote transition is the right fit for your lifestyle, personality, and goals. Some things to think about as you start to formulate this list:
Pro: No commute, work from anywhere, additional family time, cost savings, less office distractions
Con: loneliness, overworking, limited team social activities, and less face-to-face interaction.
If you feel that the pros outweigh the cons, then you can take this a step further by thinking through if your working style can transition into a remote setting.
What motivates me?

Everyone has certain things that motivate them on a day to day basis. If you are looking to work remotely, you need to make sure you have a strong interest in the potential position and work you will be doing so you can motivate yourself. If you don't enjoy what you would be doing, then this remote position might not be the best fit for how you work effectively and efficiently. No one will be looking over your shoulder regularly to make sure work is being completed. Some characteristics that make up a successful remote worker:
Self-starter
Goal-oriented
Driven by results
What are remote employers looking for, and how do you showcase you have those traits?

The biggest traits employers are looking for when hiring for remote positions:
How can you establish and display these traits? First, you want to build a great resume that is geared towards results; this will show how you follow through and are goal driven. You then want to maintain authenticity while on an interview - just be yourself!  Hiring managers generally can tell if you are putting on a show for the interview. From here you can display that you have a high level of interest in the work you do. You can bring up a blog you were reading or a podcast you were listening too pertaining to this role or career path. If you do your own blogging and podcasting, then you can share this with a potential employer.
How do I build a resume is geared towards remote positions?

Your resume shouldn't include just your job responsibilities; you need to incorporate how you were successful in carrying out those responsibilities (outcome/results/benefit). In addition, you need to embrace technology in remote setting. Incorporating the different technology platforms you are comfortable using and software tools you have utilized in the past is crucial. Communication is also key in being an efficient and effective remote worker. Make sure to include communication and collaboration skillsets throughout the resume. Side projects you have completed in the past should be highlighted.
Ready. Set. Apply!

If you feel comfortable with moving forward with seeking remote roles, make sure you conduct your research by using the employer research guide. Is this position new to a remote setting? Or is this an established role? If this is newly remote, you may find struggles along the way as this roll transitions into this new setting. You can also see if the rest of the office or company are remote or are some positions in the office. Generally, if this is mixed within the company, you may not find the same level of support as a company that is fully remote.
The Career & Professional Development office is here to support you through this process, feel free to schedule an appointment to discuss this further. We also provide a free resume review service where you can submit your resume prior to applying for remote positions for feedback.