Scholarships
Veterans Tuition Gap Program
You may qualify for the Veterans Tuition Gap Program (VeT Gap) to cover your term tuition and fees if you meet these eligibility requirements:
U.S. veteran
Utah resident
In the final year of your first bachelor's degree program (full-time, part-time, or less) 
Have exhausted all federal veterans benefits you may qualify for
Please complete the application form below by June 30th:
*Students are eligible for up to 1 year of funding, not to overlap the same term in a second year.
Named among the "Top Military-Friendly Colleges and Universities" for 10 consecutive years.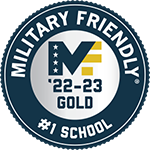 WGU has received the Military Friendly School designation for the 12th consecutive year. For 2022-2023 we have also been ranked as the #1 online school by Military Friendly.