Partnering with WGU
ACI Learning
WGU & ACI: Working to Help More Students Get the Education They Deserve
ACI Learning has partnered with Western Governors University (WGU) to offer ACI graduates an opportunity to continue their education and apply ACI coursework to one of seven WGU Information Technology bachelor's degree programs. WGU is committed to helping ACI students reach their goals with this partnership, and providing a pathway for those that want to pursue a bachelor's degree.
How You Can Transfer Your ACI Learning Experience to WGU
The technical skills you've developed through your ACI Learning coursework are valued and recognized by employers, as well as by WGU. For ACI Learning graduates of courses in such areas as information technology, software development, cloud computing, cybersecurity, network operations, computer science, or data management/analytics, you will be eligible to transfer up to 30 credits towards one of WGU's bachelor's degree programs in the College of Information Technology. This is an amazing opportunity to capitalize on your hard work and apply it to a bachelor's degree program that can help you to further your education and achieve additional professional opportunities.
Available WGU Degree Programs
ACI students can choose to transfer their credits to any of the following WGU bachelor's degree programs: 

Support for Service Members
Here at WGU, we recognize and honor the sacrifice and dedication it takes to serve our country. That's why we work hard to make educational opportunities available to active-duty service members, veterans, and their families. Being in the military is demanding—it involves moving often, unique schedules, and hard work. By providing an online university that is flexible and affordable, we help more military students and their families achieve their goals of higher education. See how WGU is working to provide access to education to those of you who are in the military, ensuring you can reach your educational goals no matter what your situation.
Named among the "Top Military-Friendly Colleges and Universities" for 10 consecutive years.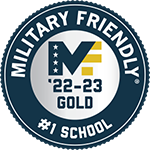 Recipient of the 2021–2022 Military Friendly® Schools Designation—our 11th consecutive year to receive this recognition.
FAQs
What are the benefits for ACI Learning alumni?
ACI Learning alumni are able to transfer up to 30 credits towards their degree. Updated information on transferable course credits is available on the WGU's partner website, linked below. For the most up-to-date transfer information, please visit the Partners page.
How do I get transfer credit?
Submit your official ACI Learning transcripts for review of potential transfer credit. The following must have official certificates submitted to be considered for transfer credit: 
CompTIA A+ or Exam 220-901 or CompTIA A+220-1001 (Certificate only)
CompTIA A+ (Certificate only)
CompTIA Network+ (Certificate only)
CompTIA Network+, CompTIA Security+ (Certificate only)
Do I have to immediately enroll at WGU after finishing my ACI program?
No, you can enroll and work toward your bachelor's degree when it's right for you! WGU degree programs are designed for working adults and will fit with your full-time work schedule after leaving ACI.
Who is a degree pathway for?
Degree pathways are perfect for any ACI student who would like to continue to advance their education and career. Ultimately, degree pathways are new, affordable educational options for today's learners to receive industry-aligned skills and degrees to further their careers.
How might a degree pathway benefit me?
Many students employ methods like attending community college for a period before transferring to a public or private institution to cut down on their educational costs. Our degree pathways are an answer to the need for affordable, specialized, and accredited education designed to get students into rewarding careers.
If I already have college credit from another institution, can I transfer that credit to WGU along with the credit from my ACI program?
Yes, depending on your specific situation. To learn more about WGU transfer policies contact an Enrollment Counselor at 866.225.5948 to discuss your current credits.
Are ACI Learning students eligible for WGU scholarships?
We offer degree programs in four in-demand fields. Explore what else is available.