Western Governors University
It's your time.
SPECIAL OFFER
Don't wait any longer. APPLY FREE TODAY.
APPLY FREE
Named a "Best Value School" by University Research & Review for four consecutive years.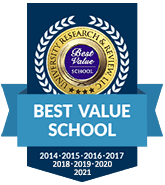 Get the degree you deserve—while saving time and money.
Get done faster, and spend less.
Tuition is low—about $6,500 a year for undergraduate programs and $7,500 a year for most graduate programs (for unlimited courses.) Flat-rate tuition and minimal fees add up to a degree that costs about half what you'd pay at other online universities.
There are scholarships—we have many scholarship opportunities that can help you graduate without any student debt.
Move at your pace—competency based eduation means that you can go quickly through material once you've mastered it, allowing you to graduate faster. Average time to graduation is 2½ years for a bachelor's, under 2 years for a master's.
Your time and money are both valuable. At WGU, when you save one, you save both!
Click the tools below to explore how it works:

As a nonprofit university, WGU puts students first. Earn your degree for half the cost of other online universities.
Graduate with little or no new debt.
Take as many courses as you can per term.
Great return on investment. 
Finish courses by proving what you know, as soon as you're ready.
With competency-based education at WGU, success is measured by actual learning, not class time. You advance by demonstrating that you've mastered the course subject matter—whether you learned it through your study at WGU or picked up that knowledge through years of work experience.

Your progress through a course is driven by you.
+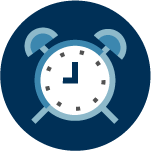 +
Spend less with flat-rate tuition.
You pay tuition per six-month term, not per course or credit. So when you move faster through your courses, you also lower your total bill!

Tuition covers unlimited courses per term. 
All programs: $145 per-term Resource Fee covers e-textbooks and learning resources, saving you thousands. Non-refundable $65 one-time application fee. Program fees and other fees: Some programs have small per-term or one-time fees specific to that program's costs. Your Enrollment Counselor can provide more information.
Control the cost of your program.
Our tuition connects cost to time.
By charging per term rather than per credit—and empowering students to accelerate through material they know well or learn quickly—WGU helps students control the ultimate cost of their degrees. (The interactive illustration uses a standard undergraduate program as an example—actual tuition and fee amounts may vary in other programs.)

Flat-rate tuition of $3,370 per term links cost to time.
By charging per 6-month term rather than per credit hour—and empowering students to accelerate through material they know well or can learn quickly—WGU helps students control the ultimate cost of their degrees.
Adjust the time and see your costs change
1 yr
1.5 yrs
2 yrs
2.5 yrs
3 yrs
1 yr
1.5 yrs
2 yrs
2.5 yrs
3 yrs
Transparent fees and no hidden costs.
The cost of attending college often includes much more than tuition and fees. WGU is designed to be a different kind of university, and that translates to cost savings everywhere from books to babysitting.

Other universities bury you in unexpected costs. Not WGU.
Click to explore the extra costs:
This demonstration shows how various costs—including official fees and incidental costs of attending school—can add up in different learning environments. It's meant as an illustration only.
Graduates report strong salary outcomes.
WGU graduates are happy with their education:
97% of WGU graduates reported that they would recommend WGU to others, compared with 78% nationally.
84% of WGU graduates were satisfied with their overall experience, compared with 73% nationally.
Impressive average salary increases:
WGU graduates reported an average increase on income of $12,600 within two years of graduation, compared with salary pre-enrollment.
Four years after graduation, the average increase was $18,400, significantly higher than the national average of $12,400.
Source: 2018 Harris Poll Online survey of 1,374 new college graduates nationwide compared with survey of 1,1,47 WGU graduates.
A WGU degree pays for itself faster and adds little to no new debt.
By providing useful information and advice on responsible borrowing before enrollment, keeping tuition low while you're enrolled, and providing programs that lead to better jobs after graduation, WGU packs a one-two-three punch designed to keep your debt low and your return on investment quick.

Recent WGU grads reported earning, on average, $12,600 more within one to two years of graduation, compared with income prior to enrollment...

...and by four years after graduation, that salary increase averaged $18,400, compared with the national average of just $12,400.

With an average cost of $16,500 for a bachelor's degree, the return on investment of a WGU degree is about two years.

We offer degree programs in four in-demand fields. Explore what else is available.