Admissions
You push yourself. We'll help push you further.
Make an informed enrollment decision.
Next Possible Start
Dec 1
Start dates are the 1st of every month. Meet requirements by the 15th to start next month. Discuss steps and deadlines with your Enrollment Counselor.
APPLY TODAY
Get your Enrollment Checklist
Learn about the enrollment process.
Download now
Get your questions answered and take the next step: Talk to an Enrollment Counselor.
866-225-5948
Request info
At WGU we want you to graduate, not just enroll.
WGU seeks to admit individuals who have the capacity and determination to complete a rigorous WGU degree program … and graduate. The admission process is designed to help you and the university reach an informed decision about your likelihood of success.
"From the very beginning, the whole process was very smooth. My enrollment counselors were knowledgeable and helpful. If I did run into any kind of little snag, somebody was always there to help me." Cindy Krupinski
B.S. Information Technology

Programs begin the first of every month.
WGU offers degrees, not classes. Instead of semesters that start two or three times a year, WGU starts new students at the beginning of each month, which launches a new term for those students.
A term at WGU is six months long. The six months that make up your term are based on when you begin your program. (For example, if you begin your program March 1, your first term lasts from March 1 through August 31. Your second term would begin September 1.)
Tuition is billed at a flat rate every term. You pay for the time, not by credit hour or by course.
Learn more about tuition rates and terms.
Hassle-free enrollment (and checklist).
WGU's enrollment process is continuous, simple, and relatively straightforward.
Click here for a step-by-step checklist of what to do and expect during the admissions process.
Speak to an Enrollment Counselor who can guide you through the steps to applying, getting accepted, and beginning your degree program.
The following criteria are considered by WGU when making an admission decision:
Your prior college and work experience (if any).
The time commitment you can make to study.
Students may also meet admissions requirements by completing the relevant program of study at WGU Academy, a pre-enrollment alternative pathway to regular enrollment at WGU.
Depending upon your program of interest, other specific admission requirements may also apply.
Program-specific admissions requirements.
Many programs have specific admissions requirements. Click on one of the links below to learn more about these program-specific admissions requirements:
College of Information Technology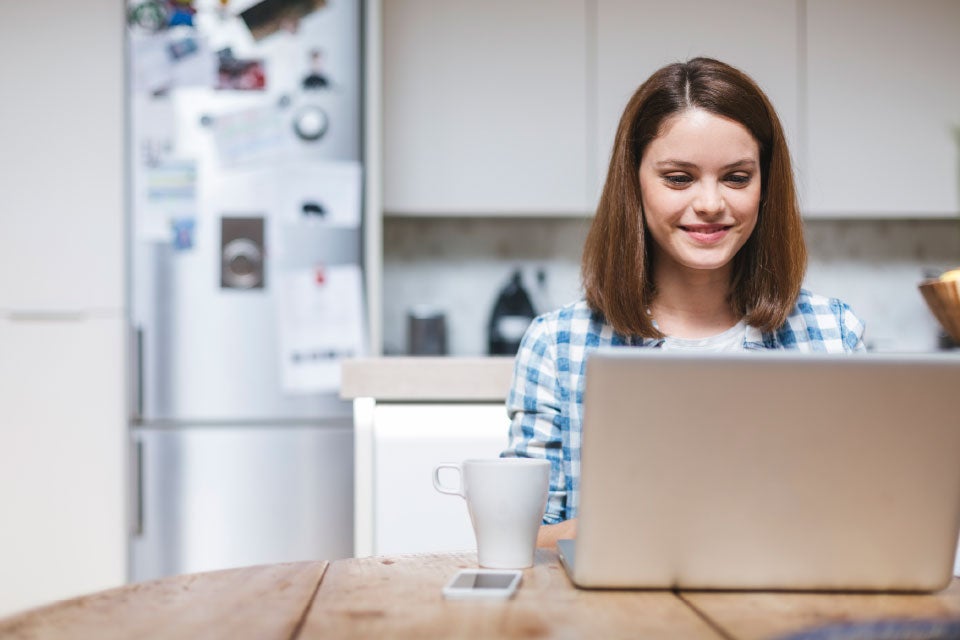 If you have prior college experience, transcripts should be sent via secure electronic channels or mailed directly from the sending institution to:
Mail option:
Western Governors University
Attn: Transcripts Department
4001 South 700 East, Suite 300
Salt Lake City, UT 84107-2533


Nondiscrimination and Equal Opportunity policies.
WGU does not discriminate on the basis of race, color, national origin, gender, religion, disability, or age with regard to admissions, programs, student services, or employment.
Computer system requirements.
Because WGU delivers coursework directly online, students are required to possess or have access to computers and internet access that meet certain technological requirements.
Admissions FAQs
What if English isn't my first language?
As a WGU student, you will be expected to communicate clearly in writing and during conversations with your mentor and WGU staff. If English is not your native language, you will need to submit proof of a qualifying score on the internet-based Test of English as a Foreign Language Test (TOEFL iBT). WGU requires a qualifying score of 80 or higher. WGU's TOEFL code is 3949. Speak to an Enrollment Counselor to get additional information. (For more information specifically on the TOEFL, visit the TOEFL website.)
Will you admit students living outside the U.S.?
At the present time, WGU is accepting applications only from individuals living in the United States. (The exceptions are U.S. active-duty military personnel and their families at overseas installations and individuals living in Guam, Puerto Rico, or the U.S. Virgin Islands.)
Unfortunately, we have discovered we cannot always guarantee that the educational experience for students living outside the United States will meet our high standards for quality and convenience. It is our expectation that these problems will be solved in future years. An Enrollment Counselor has more information about which areas are eligible to submit applications.
What if my prior college was outside the U.S.?
What if my prior college no longer exists?
If you attended a college that no longer exists, you may be able to get transcripts from a state agency, such as a Department of Consumer Affairs or Department of Higher Education. If the college was taken over by another school, check with the current school. You can also submit any unofficial copies of transcripts or course records you may have, although we can't promise that you will be able to waive any WGU requirements.
Do I have to pay the application fee to be admitted?
Yes. You may talk to an Enrollment Counselor without paying the application fee, but the fee must be paid before you can be admitted. The application fee helps defray our costs associated with admissions, transcript collection, enrolling students, etc. Note: It is against federal regulations to use financial aid for an application fee.

Didn't find what you're looking for?