Your online path to a highly respected graduate degree.
Today's fast-growing healthcare industry offers many career opportunities for people with the right skills and credentials. Take the next step to advancing your career with a master's degree in nursing education, nursing leadership and management, nursing informatics, or health leadership and administration. WGU has options to get you to MSN whether you have your BSN already—or not!

Master's Degree Programs:
WGU's nursing degree programs are accredited by the Commission on Collegiate Nursing Education (CCNE) (655 K Street, NW, Suite 750, Washington, DC 20001, 202-887-6791). An autonomous arm of the American Association of Colleges of Nursing, CCNE is the foremost accrediting body for nursing schools that offer baccalaureate and graduate degrees. Officially recognized by the U.S. Secretary of Education as a national accreditation agency, CCNE is the only accrediting body devoted exclusively to the evaluation of baccalaureate and graduate nursing degree programs. Accreditation is a nongovernmental peer review process that evaluates each program's mission, goals, and expected outcomes and assesses the performance of the program in achieving those missions and goals.

---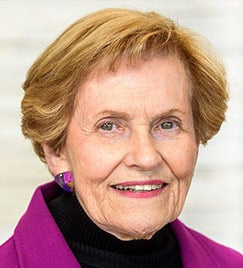 Lead the way to revolutionary healthcare.
Margaret McClure Scholarship. Valued at up to $5,000.
As an RN, you know that nursing is a career based on constant learning, growth, and development. With a Margaret McClure scholarship, your BSN or MSN program at WGU can be more affordable than you imagined. And now is the perfect time to get started. 
Programs begin the first of each month.  And our flexible, online format lets you complete most coursework any time or place that fits your schedule. 
---
"At WGU there is no busy work. Everything is related to your degree and related to the work you'll be doing in your job." Natalie Hill
M.S. Nursing – Education (RN to MSN)

Students and graduates of WGU's College of Health Professions are unified by their service to caring for others. One grad, Rhonda, was also driven by duty. She found a way to connect her duty to serve and her calling to care.
Rhonda's WGU College of Health Professions experience
Experience + hard work could help you graduate ahead of schedule—and under budget.
Our competency-based approach to education is an ideal match for experienced healthcare professionals like you with extensive real-world experience. At WGU, you earn your degree by demonstrating skills and knowledge in career-relevant subject areas through a series of assessments. If you already possess these competencies (or if you study hard and learn fast), you can complete your assessments more quickly. With the personalized guidance and instruction of a knowledgeable faculty, you'll be able to earn your health master's degree online, on your schedule, and on your budget.

competency, noun
Demonstrated knowledge, skill, or ability required to advance in a degree program.
At WGU, course competencies are defined by an expert council, including employers.
For this course, there are 3 areas you need to prove competency in.
First

, let's take a pre‑assessment.

Determine what you already know from previous work and education experience, and where you need to focus your studies. Prove your competency in 3 areas in this exercise.
Competency 1: Retrieving results...
Competency 2: Retrieving results...
Competency 3: Retrieving results...
Second

, study course materials.

Click on the free learning resources created by education experts that will help you master the competencies.
Result:
X
"Not only did my degree at WGU help me advance my career—it also helped save a rural hospital and the community's access to local, quality healthcare." Sarah Aronack
M.S. Nursing – Leadership and Management (BSN to MSN)