WESTERN GOVERNORS UNIVERSITY
Skills Library
First WGU Skills Library Collection Now Available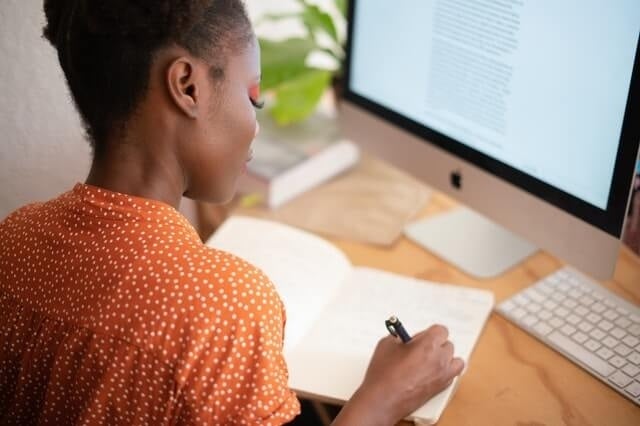 This project is the result of countless hours of hard work, creativity, and ingenuity—and we are so excited to be sharing it with you.

On this page, you'll find brief information on the WGU Skills Library, links to access the collections, and details on how to share feedback about the collections with our team. These collections are meant to be collaborative, and it is our hope that they will improve and evolve over time with your input.
Note: These collections are organized around occupational relation and affinity groups and do not specifically reflect the skills in any given WGU program.

Additional collections will be released on a quarterly basis, so be sure to bookmark this page and check them out!
To view all current and future skills library content, or to provide feedback on the skills library collections, please click below. 
Skills Library Collections
In the spirit of conscious capitalism and business as a force for good, the Business Ethics Skills Collection was directed by a WGU initiative to thread business ethics skills throughout all College of Business educational products. This diverse range of market-demand skills, from communications to strategic planning, have been integrated in numerous College of Business projects to ensure WGU learners exit with market-demanded business skills and core, practical ethical principles.

The Medical Assistant Skills Collection was developed with hiring managers in alignment with top market signal skills associated with the medical assistant job role. This robust collection of skills encompasses the high-demand skills employers seek from medical assistants.

The Value-Based Care Skills Collection is a sampling of rich skill descriptors (RSD)s that enable an interdisciplinary approach to healthcare models. This diverse range of RSDs, from finance to care delivery, have been integrated into a certificate offering from The Institute for Advancing Health Value at WGU to enable the upskilling of a diverse population of healthcare professionals.   

The Information Systems Security Collection represents the skills necessary for professionals in computer security based on a standardized body of knowledge across 8 domains represented on the certification granted by International Information Systems Security Certification Consortium (ISC).  This collection of skills was developed in partnership with a panel of subject matter experts who have earned this certification and have at least five years of full-time, paid work experience as a security analyst in two or more of the eight domains covered in the certification.

The Curriculum & Instruction Collection was part of a redevelopment initiative to present a program of specialized skills and learning in instructional theory and practice, learning science, and educational research. The collection was developed with a spectrum of experts in the field of education ensuring the skills are impactful as WGU graduates lead innovation in their various education environments. The Curriculum & Instruction Collection provides a robust focus, depth, and practical skillset that is respected and recognized by industry leaders and accredited by the National Board. 
The Special Education Collection was developed as part of the response to a critical shortage of specialized teachers and the launch of the Master of Arts in Teaching Special Education degree. The collection includes skills related to special education policy, law, methodology, knowledge, and fundamental pedagogy related to special education (mild to moderate) in elementary and secondary schools. The collection is aligned to two accrediting bodies: The Council for Exceptional Children (CEC) and Council for the Accreditation of Educator Preparation (CAEP) standards. 

The Character Education Collection is part of the Next-Generation Educators initiative in WGU's Teachers College. The goal of the Character Education for a Better Society (CEBS) is to prepare K-12 educational leaders and teachers as creators and cultivators of character in school cultures. The collection is based on developing ethical values and virtues around the key pillars of respect, responsibility, fairness, citizenship and civic virtue, trustworthiness, and caring. The collection was developed through the collaborative efforts of a group of experts including the support from the Kern Family Foundation.

Social Emotional Learning (SEL): General

The Social Emotional Learning (SEL): General Collection was directed by a WGU initiative to systematically thread skills throughout the student lifecycle that develop success-oriented mindsets towards academic, professional, and personal goals. This collection contains people-centered skills that develop an individual's capacity to understand and manage oneself while also building healthy and supportive relationships with others. The SEL: General Collection was developed in collaboration with subject-matter experts, SEL industry groups with recognized SEL competencies and requirements, and benchmarks from leading universities and other institutions of learning.
Diversity, Equity, and Inclusion (DEI): General/Essentials

The Diversity, Equity, and Inclusion (DEI): General/Essentials Collection was directed by a WGU initiative to thread skills relating to diversity, equity, and inclusion throughout product offerings. This collection contains people-centered skills that build connections, repair injustices, and foster respectful community cultures. The DEI: General Collection centers on the lived experience of individuals and encourages self-exploration, reflection, and personal growth towards the acceptance and appreciation of differences. This collection was developed in collaboration with subject-matter experts, DE&I industry groups with recognized DE&I competencies and requirements, and benchmarks from leading universities.
Frequently Asked Questions
What is a skills library? Why does WGU have one?
A skills library is a centralized and structured compiling of skills data, qualifications and attributes that helps to create a unified understanding of skills for an organization in areas of employment need, curriculum development, job architecture, or competency grouping. At WGU, we use our skills library to inform competencies in our educational model. This approach to designing content ensures that our courses are reflective of current and projected labor market demands. 
What makes up a skills library and collection?
In short, skills. But not just ordinary skills—these skills are special. They are Rich Skill Descriptors (RSDs). They have been embedded with meta-data that allows them to not only be read and processed quickly by computers but understood with a depth of knowledge that touches into current workforce data, geographical needs, current labor market and educational trends, and categorical relationships with other skills. A library is what constitutes an organization's whole catalog of skills. A collection pertains to those skills grouped together via subject matter, occupational relation, or special affinity like "soft" or "21st century" skills (these are collaboration, critical thinking, and other types of growth skills). 
How is a skills library created?
WGU skills architects source Rich Skill Descriptors from different inputs such as databases for job profiles and data (e.g., EMSI, Burning Glass), the U.S. Bureau of Labor Statistics, and industry/academic standards or frameworks. They are also informed by industry certifications and licenses, job profiles and data, employer insights, industry and` academic standards, and other relevant resources. Once Rich Skill Descriptors are developed in collaboration with industry subject matter experts or strategic partnerships supported through the Open Skills Network (OSN), they are housed on WGU's instance of the Open Skills Management Tool (OSMT). OSMT modernizes and streamlines the process for creating and archiving. OSMT allows WGU to share its skills collections with the Open Skills Network so those members can use the collections for their own efforts and provide WGU with feedback for refinement and enhancement. To learn more about OSMT, click here.
How can you use a skills library?
The Skills Library is primed for innovation! It can help create skills-denominated digital badges, align curriculum to workforce relevant skills, author more effective job descriptions, and build curricular and career pathways. And, this is just the beginning! As we mentioned above, this is a tool meant for collaboration—the more it is used and refined, the more opportunities it can create.
Why is feedback important to these collections?
Your feedback isn't just important, it's ESSENTIAL to the growth of the Skills Library. These collections depend on collaboration and community nurturing to grow to their fullest potential. We want the collections to be the best representations of the skills they describe and to reflect all different areas of expertise. This takes more than WGU—it takes you! Please click here to help us refine and improve the collections.
Will there be more collections in the WGU Skills Library?
Yes! This is an ongoing process. More collections are coming—so be sure to keep checking this page for updates.
This showcase recording dives into the first WGU collections.
To learn more about skills libraries, their purpose and the team behind creation, visit the Open Skills Network site.
 
We offer degree programs in four in-demand fields. Explore what else is available.