Join us in Salt Lake City on August 3.
---
Next commencement:
Saturday, August 3
Master's Ceremony | 9:30 am
Bachelor's Ceremony | 1:45 pm
Vivint Smart Home Arena, Salt Lake City, Utah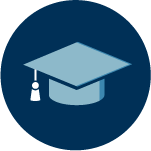 Not able to attend in person?
You can watch it right here, on this page, live! Bookmark this page and share this link with family who want to watch the event.  
---
WGU's Salt Lake City commencement speaker: Ken Jennings
Ken Jennings is an author, computer scientist, and record-breaking game show champion, gaining folk hero status when he appeared on Jeopardy! in 2004 and won 74 games and $2.52 million—both American game show records.
Ken was born in the Seattle, Washington, area but grew up overseas. His family spent 15 years in Korea and Singapore, where his father worked as an attorney. His only lifeline to American pop culture during those years was TV on the Armed Forces Network, where he watched Jeopardy! religiously after school every afternoon and first began to dream of appearing on the show. Years later, he graduated from Brigham Young University with a double major in English and computer science, where he also captained the BYU academic competition team, consistently finishing in the top 10 at national quiz bowl tournaments. He worked on writing and editing questions for National Academic Quiz Tournaments , a company that organizes quiz tournaments attended by hundreds of colleges and thousands of high schools nationwide. It was at this time that he began to revive his dream of appearing on Jeopardy! The dream became a reality when, while working as a software engineer in Salt Lake City, he successfully auditioned to be a contestant.
After his appearance on the show, Ken appeared on everything from The Tonight Show to Sesame Street. Barbara Walters named him one of "The Ten Most Fascinating People of the Year." The Christian Science Monitor called him "the king of Trivia Nation," and Slate dubbed him "the Michael Jordan of trivia, the Seabiscuit of geekdom." 
Today, Ken writes a weekly quiz based on the previous week's news for Slate and publishes his "Kennections" trivia puzzle online and in Parade. He has co-invented the trivia games Can You Beat Ken? And Quizzology and has published three books: Brainiac: Adventures in the Curious, Competitive, Compulsive World of Trivia Buffs;  Maphead: Charting the Wide, Weird World of Geography Wonks; and Because I Said So: The Truth Behind the Myths, Tales, and Warnings Every Generation Passes Down to Its Kids. He lives in Seattle with his wife Mindy, his son Dylan and daughter Caitlin, and a small, excitable dog named Chance.
---
What is it like to attend commencement weekend?
WGU hosts commencement weekends across the country over the course of the year, with new cities and events each year. We enjoy providing these opportunities for students, graduates and families to come together to celebrate their accomplishments and achievements. 
Why You Should Attend WGU Commencement Weekend
Next commencement: Salt Lake City, Utah
2019 commencements continue with Salt Lake City in August. In September, commencement will be in Seattle, Washington.
---
There are so many great moments from past commencements. You can find individual playlists from each commencement weekend on YouTube, or the links listed here.
We've also selected some of our favorite moments from recent ceremonies—including speakers, ceremonies, anthem singers, and more.

Sekou Andrews | The Poetic Voice
Nathan Siebach | Deployed Military
Helen Thayer addresses bachelor's graduates.
Looking for other commencement links?
Alumni share their success stories.
From dropout to two IT degrees.
Rashaan Green shares how he defied the curse from a teacher and became something remarkable.
Being self-driven.
Running taught Connie valuable lessons that have helped her set goals, make records, and stay motivated.