WESTERN GOVERNORS UNIVERSITY
Your path to a respected teaching degree.
Named a "Best Value School" by University Research & Review for seven consecutive years.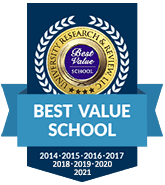 Western Governors University is proud to announce that we are an SSDA Platinum Sponsor.
WGU—an online, accredited university recognized nationwide for its quality, flexibility, and value—can help you grow your career with a bachelor's or master's degree. Here's why now is the time to earn your degree at WGU:
Scholarship opportunities. WGU awards over $15 million in scholarships annually. Scholarships from $2,000 to $10,000 are available for new WGU students and returning WGU graduates, depending upon specific eligibility requirements for the particular scholarship.
Respect and recognition. WGU was the first exclusively online Teachers College to receive CAEP accreditation for teacher prep programs. WGU was also named #1 among all U.S. colleges and universities for both quality and value by the National Council on Teacher Quality.

Personalized support. You will be successful at WGU, thanks to a support team focused on you: outstanding course and program faculty members, helpful enrollment counselors who specialize in your program of interest, a dedicated student teaching support team, and more.

A smarter path to your degree. WGU's programs are competency-based, meaning that you could graduate well ahead of schedule.
Help fulfill the education needs of your organization—become a WGU partner.
Complete the form and a member of our Strategic Partnerships team will contact you.
Find your teaching degree at WGU.
Top-ranked programs for quality and value.
Learn to be the best from the best.

As a nonprofit university, WGU puts students first. Earn your degree for half the cost of other online universities.
WGU students pay half the tuition, and end up with half the debt of the national average.
Low, flat-rate tuition.
Graduate faster and with less debt.
Financial aid and scholarships available.
Online education with supportive faculty.
VA and military benefits accepted.
Great return on investment.
All course materials for a low flat fee.
Spend less with flat-rate tuition.
You pay tuition per six-month term, not per course or credit. So when you move faster through your courses, you also lower your total bill!

Tuition covers unlimited courses per term. 
All programs: $145 per-term Resource Fee covers e-textbooks and learning resources, saving you thousands. Non-refundable $65 one-time application fee. Program fees and other fees: Some programs have small per-term or one-time fees specific to that program's costs. Your Enrollment Counselor can provide more information.
"When my daughter started preschool, I decided to go work at the school as a paraeducator. Over the next three years, I was told that I should go back and get my degree, so I finally started looking into it. When I came across WGU, I knew it was the right fit for me. The most rewarding thing about being a licensed educator is that I feel like I am finally where I was meant to be!" Jodi Milner
WGU Graduate

Learn, prove it, move on.
Competency-based education focuses on learning rather than seat time. You're in the driver's seat. Each course is a collection of defined competencies—knowledge and skills that employers are looking for from successful graduates. You study on your schedule. As soon as you can prove you've mastered the competencies, you take an assessment, pass it, and move on. You spend your time learning new concepts, not rehashing subjects you already know. You can set the pace to graduate early. And in the end, your degree is proof you've shown that you're what employers are looking for!

From before you enroll to after you graduate, our #1 job is a better life for you and your family. Think of it as the best of both worlds: a program that offers complete independence and more support than you ever knew you needed—at exactly the moment you need it! From the enrollment counselor who helps you decide if WGU is the right fit for you, to the faculty mentors who are obsessed with your academic progress, to the student and tech support teams who are eager to help you solve any issues you might encounter as a student, you're never alone—even though you're online. And even after you've graduated, career and alumni support is just a call away.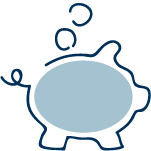 Smaller investment, bigger returns.
At WGU, affordability means cutting-edge programs at tuition rates that are half what you'd pay at other online universities. It means graduating with little to no student debt. It means scholarship and financial aid opportunities and minimal, transparent fees. It means a flat-rate per-term tuition so that when you save time you also save money. And it means understanding that value includes quality, flexibility, relevance, and results, not just cost.

We offer degree programs in four in-demand fields. Explore what else is available.