Webinar Hosted by WGU Texas, WGU Latinx Owls, and Verge ERGs
Mission: Transition
Every year, about 200,000 military service members join the civilian sector and 70.7% of those transitioning will fall short of retiring with a pension, according to the Department of Defense. 53% of separating post 9/11 veterans will face on average about 22 weeks of unemployment. 
Join retired USMC Maj. General Juan G. Ayala and learn how to make the right decisions when separating from the military, how to prepare for transition, potential career paths, what types of employees companies are looking for, educational opportunities, and transitioning to new roles and civilian life.
Co-hosted by WGU Texas' Military Outreach Strategic Partnership Manager Joe Carrillo and sponsored by WGU Texas, WGU Latinx Owls and Verge ERGs, this recording is about an hour long.
Major General Juan G. Ayala
In the nearly 245-year tradition of the United States Marine Corps, retired Maj. General Ayala is one of only seven Hispanic Generals to serve. He hails from El Paso, Texas and attended Coronado High School, University of Texas at El Paso, U.S. Naval War College, and earned his MBA from Campbell University.  General Ayala served in the military for 36 years, made 23 moves, and has been to over 60 countries. He has a proven record of success leading large, complex organizations and is currently the Director, Office of Military and Veteran Affairs for the City of San Antonio.
He works closely with military and civilian partners to ensure military missions and installations continue to thrive and grow in the region.
Before retiring, Major General Ayala commanded all 24 Marine Corps installations worldwide and was selected to lead the Department of Defense's 2015 Warrior Games assisting the nation's wounded, ill and injured warriors in their recuperative efforts. He is the former Inspector General of the Marine Corps, and his service includes 4 combat tours in support of Operation Iraqi Freedom, including a year as the Senior Advisor of a Military Transition Team, embedded with the 1st Iraqi Army Division.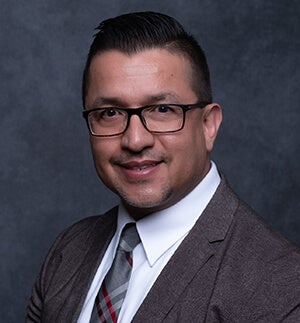 As the Military Outreach Strategic Partnerships Manager for WGU Texas and the south region, Joe Carrillo builds relationships with military-affiliated organizations and partners, active-duty military and families, and veterans to support workforce development through education at WGU. He has more than 20 years of strategic business development with the military, S&P 500 organizations, healthcare, and higher education markets, served as Director of Business Development for El Paso Behavioral Health System and is president of the nonprofit Paso del Norte Borderplex Veteran Coalition.
Carrillo earned a B.S. in Business Management and an M.S. in Administration Justice and Security from the University of Phoenix. The Congress of the United States House of Representatives awarded Carrillo a special congressional recognition certificate in honor of his service to the community and in support of transitioning U.S. Army service members at Ft. Bliss.