WESTERN GOVERNORS UNIVERSITY
AU-ABC: Air University - Associate-to-Baccalaureate Cooperative
SPECIAL OFFER
Active military members may use the discount code "MILITARY" to waive the application fee.
APPLY FREE
WGU has been honored among the "Top Military-Friendly Colleges and Universities" for 12 consecutive years.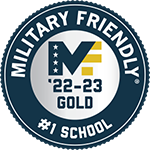 Get a Head Start at WGU with the AU-ABC Program from the Community College of the Air Force
The Air University - Associate-to-Baccalaureate Cooperative (AU-ABC) program allows students who are currently receiving their associate degree from the Community College of the Air Force to jump into an eligible business or IT program at Western Governors University.
For more information on our eligible programs and to see the Program Plan Files (PPF), click here.
WGU is proud to support those who are currently serving our country, veterans, and their families.  WGU has received the Military Friendly School designation for 12th consecutive years. So far this year, we have awarded nearly $1 million in scholarships to military and veteran students and their families. WGU could be the perfect fit for you, too.
GI Bill approved. All degree programs offered at Western Governors University are approved by the Department of Veterans Affairs for all education benefits offered under the GI Bill®. The Military Tuition Assistance Program is also available to help active-duty military members receive financial aid.
Active-duty support. Our competency-based online degree programs allow you to earn your degree on your schedule. You can still meet all your other responsibilities while furthering your education.
Portability and flexibility. WGU is recognized nationwide, so no matter how many times you have to move, your degree will still be valuable. Our online programs also mean you don't have to worry about stopping and starting, transferring, or being interrupted. We go wherever you do.

Affordability. WGU's tuition is so low that VA and tuition assistance benefits often cover the full cost of attending. And we're working to make WGU even more affordable for military families. There are many scholarships available to incoming military students, such as the Military Appreciation Scholarship which is open to active-duty service members, veterans, their spouses, and their children.
Relevance. Leading employers help develop our curriculum. So your degree has real value and will give you the skills you need to land your dream job.
Business Undergraduate Programs (Costs per 6 Month Term)
---
Bachelor of Science, Business Administration – Business Management (Costs per 6 Month Term)
Bachelor of Science, Cybersecurity and Information Assurance (Costs per 6 Month Term)
---
Other IT undergraduate programs (Costs per 6 Month Term)
About WGU
What Online Academic Support Does WGU Offer?
Each student is assigned an enrollment advisor, and the student experience is enhanced with three types of faculty at WGU: Program Mentors, Instructors, and Evaluators. Mentors and instructors interface with students by phone or by web to provide tailored instruction and support in their areas of experience, while evaluators provide feedback and perspective on student assessments. This "division of labor" enables each type of faculty member to deliver top-notch, student-focused support. In addition to one-on-one guidance, WGU also offers a variety of resources to enhance academic support such as the Writing Center, Learning Communities, Center for Student Success, and WellConnect. To learn more about these programs, click here.
How Long Does It Take To Complete WGU Courses?
Progress through a degree program is governed by students' ability to demonstrate mastery of competencies as they complete required courses, rather than by the amount of time they spend in class.
What Does a Typical WGU Path Look Like?
The focus of WGU's programs is a student's personalized Degree Plan. The Degree Plan is a detailed blueprint of the courses needed to complete the degree. The Degree Plan also lays out the accompanying learning resources and assessments that compose the program. The list of courses in the Degree Plan is often referred to as the "standard path".  The program mentor and course instructors will help assess strengths and development needs to establish a study plan. Students vary widely in the specific skills and information they need to learn. Some individuals may be able to devote as little as 15–20 hours per week to the program, while others may need to devote more time. For this reason, pre-assessments help program mentors form a profile of students' prior knowledge to create a personalized Degree Plan.
As students proceed through their Degree Plan, they have direct contact with multiple faculty members. These communications can take a variety of forms, including participation in one-on- one discussions, chats in the learning communities, and live cohort and webinar opportunities. Students have access to a personal MyWGU Student Portal, which provides a gateway to courses of study, learning resources, and learning communities where they can interact with faculty and other students. The learning resources in each course are specifically designed to support students as they develop competencies in preparation for assessments. These learning resources may include reading materials, videos, tutorials, cohort opportunities, community discussions, and live discussions that are guided by course instructors who are experts in their field. Students access their program community during orientation to network with peers who are enrolled in your program and to receive continued support through professional enrichment and program- specific chats, blogs, and discussions. WGU also provides Student Services associates to help students and their program mentors solve any special problems that may arise.

Because WGU is competency based, courses do not have syllabi. Rather, WGU programs have a set standard path through which students progress. The standard path is a detailed blueprint for a program that outlines degree requirements (the courses of study and assessments), the order in which requirements should be completed and the associated competency units by term. Courses at WGU contain a set of clearly defined competencies (course-level outcomes) of which each student must demonstrate their mastery through objective tests, papers, projects, and a capstone.

What is the Course Schedule?
All courses at WGU start on a monthly basis on the first of the month.
What are the Term Lengths at WGU?
Students are enrolled in six-month terms.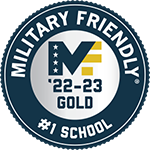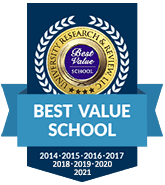 We offer degree programs in four in-demand fields. Explore what else is available.