Student Experience
Military Support Overview
Support for Service Members
Here at WGU, we recognize and honor the sacrifice and dedication it takes to serve our country. That's why we work hard to make educational opportunities available to active-duty service members, veterans, and their families. Being in the military is demanding—it involves moving often, unique schedules, and hard work. By providing an online university that is flexible and affordable, we help more military students and their families achieve their goals of higher education. See how WGU is working to provide access to education to those of you who are in the military, ensuring you can reach your educational goals no matter what your situation.
---
It was a privilege to have some of our wonderful military graduates featured on Military Makeover: Operation Career on Lifetime. Watch this video to learn more about their stories.
Fully Accredited Education, at About Half the Cost
Average Yearly Bachelor's Tuition:
*According to the Integrated Postsecondary Education Data System
Average Yearly Master's Tuition:
*According to data from the National Center for Education Statistics
WGU average annual bachelor's tuition rates are 57% the national average, compared to national rates reported by the Integrated Postsecondary Education Data System. WGU average rate does not include rates for WGU Bachelor of Science, Nursing Prelicensure program.
Other benefits of tuition at WGU:
We do not have additional fees for books. You get full access to our online resources as part of your tuition.
We can offer additional financial aid. Fill out a FAFSA to see what other benefits you could be eligible for.
We offer additional scholarship opportunities. Students can apply for other scholarship opportunities if their military benefits will not cover their tuition.
$4,000 Honoring our Heroes Scholarship
WGU is pleased to offer military personnel, veterans, and their spouses an opportunity to advance their education. It's one small way we can say "thanks" for your service, your sacrifice, and your commitment to our country's future.

GI Bill® Education Benefits
All degree programs offered at Western Governors University are approved by the Department of Veterans Affairs for all education benefits offered under the GI Bill®. Education benefit options are available for veterans and active duty service members, dependents, and those with service in the National Guard and Reserves. Eligibility for benefits and the amounts available depend upon the service member's period of military service, years of service, and other factors.
NOTE: Forever GI Bill®– Harry W. Colmery Veterans Educational Assistance Act, signed into law August 2017. The new Forever GI Bill® offers significant changes to veterans' education benefits. For example, it expands the number of veterans eligible to use the GI Bill® to include National Guardsmen, Reservists and those who received a Purple Heart post-9/11. It also eliminates the previous 15-year time limit for veterans who left active duty on or after January 1, 2013. The Forever GI Bill® requires applicants to have 90 days of active duty after September 10, 2001. Find out more at https://benefits.va.gov/gibill/forevergibill.asp.

GI Bill® is a registered trademark of the U.S. Department of Veterans Affairs (VA). More information about education benefits offered through Veterans Affairs is available at the official U.S. government website at www.benefits.va.gov/gibill.
Because WGU's tuition rates are quite modest, most education benefits will generally more than cover the full cost of tuition, fees, and books. Check out the Net Price Calculator for an estimate of your costs.
After you are admitted to WGU, your Enrollment Counselor can direct you to WGU's Military Support department for specific instructions on completing the necessary paperwork.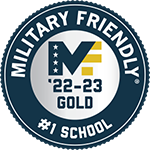 WGU has received the Military Friendly School designation for the 12th consecutive year. For 2022-2023 we have also been ranked as the #1 online school by Military Friendly. 
Named among the "Top Military-Friendly Colleges and Universities" for 10 consecutive years.

"WGU has taught me so much and given me the opportunity to earn my master's degree in six months while deployed overseas in service to our country."
-U.S. Army First Lieutenant Nathan Siebach, WGU Master of Leadership and Management Graduate
Military Tuition Assistance
The competency-based degree programs at WGU are approved for Military Tuition Assistance. This approval was granted after a rigorous review by the Department of Defense that affirmed the substantive quality of WGU programs and the comparability of WGU's competency units to traditional credit hours. Our Military Tuition Assistance team in enrollment is here to help you understand your MTA benefits.
Military personnel may apply for Tuition Assistance through their base education office or other standard methods. Your Enrollment Counselor can direct you to the MTA team in Admissions or WGU's Military Support department to explain the process.
Learn more about how WGU serves the military student through Tuition Assistance. And take a moment to look at what military scholarships are available for military personnel, veterans, and spouses.
Using Your Military Benefits
Want to learn more about WGU, using your military benefits, and transferring your college credits?  Join us, on your personal device, for a webinar offered three times a month.  
Our goal at WGU is to make earning your degree as convenient as possible—particularly for service members and their families. If you've already taken some college courses or have an associate degree, you are likely already well on your way to earning a bachelor's degree at WGU. Work with our transfer team to submit your transcripts and see what courses you may be able to waive with your past schooling.
Additionally, because of our competency-based education model, you can use experience and knowledge to help you move quicker through courses. 
"The competency-based approach at WGU is so unique because it allows you to accelerate through what you already know and focus more on what you don't. You don't have a set time to log in, so you can really study at any time."
—Mary Fredette, WGU MBA Graduate
The U.S. Department of Education provides some resources to assist military students in selecting a university. These include:
Air University - Associate-to-Baccalaureate (AU-ABC) Program
The Air University - Associate-to-Baccalaureate Cooperative (AU-ABC) program allows students who are currently receiving their associate degree from the Community College of the Air Force to jump into an eligible business or IT program at Western Governors University.
For more information on this program, click here.
A Purple Heart University
The Military Order of The Purple Heart, Idaho Department, has recognized WGU as a Purple Heart University for its support of military veterans, noting that WGU has a large and highly decorated veteran population.
As the oldest military decoration in use today, the Purple Heart is awarded to members of the U.S. armed forces who have been wounded or killed in combat. 
---
Next Start Date
Start the 1st of any month—as soon as you complete enrollment!
College can be affordable—and it's definitely worth it.  We're here to help you make the best decisions on degree program, payment options, scholarship application, and more.

Can't find what you are looking for?
Questions and answers.
Will I qualify for full-time or ¾-time VA benefits?
The GI Bill® is very generous for WGU students. Most benefit chapters pay a monthly set amount directly to the student based on full-time, 3/4-time, or half-time enrollment in an undergraduate program. (Half-time benefits are considered to be 12 competency units—a standard full-time load for undergraduate students at WGU.) You can vary your attendance time from term to term. Graduate students will always qualify for full-time benefits when enrolled in the minimum requirement of 8 competency units. Post 9/11 benefits determined by a rate of pursuit calculation and not by full-time, 3/4-time, or half-time attendance.

Can I also get financial aid?
Because any veterans' benefits paid under any law administered by the Department of Veterans Affairs (VA) is not considered income, it should not be reported on your application for financial aid as such. Submitting a FAFSA is necessary to know whether you qualify for a Pell Grant and/or student loans. Students utilizing Military Tuition Assistance funds must indicate this on their FAFSA as an additional resource toward their tuition cost, which may affect the amount of their award. Click here to learn more about or apply for financial aid.

How quickly can I get my VA money?
After you have started your degree program and developed your personalized Degree Plan, the VA department at WGU will certify your program of study to Veterans Affairs. This is done by the last day of the first month of each term. You should receive your first benefit payment within five to eight weeks after a certification is submitted each term. You should then regularly receive a monthly payment after the last day of each month and your verification of attendance (if applicable). But first, you must apply to WGU and be admitted. And you will need to have received notice of your VA education benefit eligibility. WGU's VA department can help you complete the necessary steps for attendance certification.

Will I get credit for my military experience?
WGU does not award traditional "credits" directly for military experience, but an incoming student may have certain requirements waived when the military experience has been ACE-reviewed and applied directly to the WGU degree program. WGU can also waive requirements based upon DANTES and CLEP exams that match with WGU program requirements and meet minimum grading standards. A transcript review is required to determine exactly what can be waived. More importantly, everything you've learned that's relevant to your degree program can potentially help you accelerate your degree. Talk to an Enrollment Counselor to get a detailed explanation. If you have served in any branch of the military, you should be able to obtain a military transcript. WGU's VA department can direct you to the online resources to request it.

How do my Post 9/11 education benefits work at WGU?
Post 9/11 (CH 33) benefits are paid differently than older chapters. Based on your entitlement, which is factored from your length of qualifying active-duty service, a percentage of your tuition and fees will be sent directly to the school. 100% entitlement will cover your tuition and fees completely each term you have remaining entitlement. You will also receive a monthly stipend sent directly to you if you are not on active duty or the spouse of an active-duty service member utilizing a transfer of entitlement. This payment is 50% of the amount paid to a student attending an on-campus school, multiplied by your rate of pursuit and percentage of entitlement. In an undergraduate program, 18 CUs is considered 100% pursuit, but you do not have to enroll in 18 CUs to get the benefit. 12–17 CUs will be paid at the corresponding lesser percentage. In a graduate program, 8 CUs is considered 100% pursuit. You will also receive a book stipend once each term up to the capped amount for your entitlement.