Western Governors University
Now more than ever, nurses change lives.
We want to change yours.
SPECIAL OFFER
You can apply to WGU for free—a $65 value! You'll also enjoy priority admission status and personalized help.
APPLY FREE
The bachelor's and master's nursing degree programs at WGU are accredited by the Commission on Collegiate Nursing Education (655 K Street, NW, Suite 750, Washington, DC 20001, 202-887-6791).
The world needs nurses. We want to help you become one. Special offer available.
Nursing is more than a job—it's a calling. More than ever before, nurses are essential to hospitals, clinics, and communities. So now is the perfect time to advance your nursing career with a CCNE-accredited degree from WGU, where you'll find:
Scholarship eligibility. Our tuition is already about half what most other online universities charge. It can be even less if you are awarded a WGU Loves Nurses Scholarship!

Dozens of relevant degrees. WGU offers CCNE-accredited BSN and MSN degrees, as well as bachelor's master's degrees (including MBAs) in specialties that include healthcare management, health information management, and more.

Personalized support on your independent path. Programs are competency-based, so you're in the driver's seat—but with personalized faculty support of your own Program Mentor.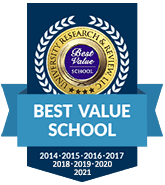 Because you care, earn a nursing degree.
Gain the comprehensive knowledge you need to become an expert in the field.
---
Earn your degree for half of the cost of other online universities.
WGU students pay half the tuition, and end up with half the debt of the national average.
Low, flat-rate tuition.
Graduate faster and with less debt.
Financial aid and scholarships available.
Online education with supportive faculty.
VA and military benefits accepted.
Great return on investment.
All course materials for a low flat fee.
Spend less with flat-rate tuition.
You pay tuition per six-month term, not per course or credit. So when you move faster through your courses, you also lower your total bill!

Tuition covers unlimited courses per term. 
All programs: $145 per-term Resource Fee covers e-textbooks and learning resources, saving you thousands. Non-refundable $65 one-time application fee. Program fees and other fees: Some programs have small per-term or one-time fees specific to that program's costs. Your Enrollment Counselor can provide more information.
"Nurses are the beating heart of our health system. Without our skills, health outcomes would be adversely impacted, so it is essential that we are equipped with the clinical, research, and leadership skills necessary to work in our complex delivery models. Education is an investment in ourselves, but also a contribution to the nation's health and wellbeing." -David C. Benton
RGN, RMN, BSc, MSc, MPhil, PhD, FFNF, FRCN, FAAN
CEO, National Council of State boards of Nursing
Learn, prove it, move on.
Competency-based education focuses on learning rather than seat time. You're in the driver's seat. Each course is a collection of defined competencies—knowledge and skills that employers are looking for from successful graduates. You study on your schedule. As soon as you can prove you've mastered the competencies, you take an assessment, pass it, and move on. You spend your time learning new concepts, not rehashing subjects you already know. You can set the pace to graduate early. And in the end, your degree is proof you've shown that you're what employers are looking for!

From before you enroll to after you graduate, our #1 job is a better life for you and your family. Think of it as the best of both worlds: a program that offers complete independence and more support than you ever knew you needed—at exactly the moment you need it! From the enrollment counselor who helps you decide if WGU is the right fit for you, to the faculty mentors who are obsessed with your academic progress, to the student and tech support teams who are eager to help you solve any issues you might encounter as a student, you're never alone—even though you're online. And even after you've graduated, career and alumni support is just a call away.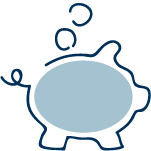 Smaller investment, bigger returns.
At WGU, affordability means cutting-edge programs at tuition rates that are half what you'd pay at other online universities. It means graduating with little to no student debt. It means scholarship and financial aid opportunities and minimal, transparent fees. It means a flat-rate per-term tuition so that when you save time you also save money. And it means understanding that value includes quality, flexibility, relevance, and results, not just cost.

We offer degree programs in four in-demand fields. Explore what else is available.