WESTERN GOVERNORS UNIVERSITY
Studying at home.
WGU was made for this.
SPECIAL OFFER
Get a WGU Program Guide and personal admissions help, and apply FREE this week.
GET OFFER
Named a "Best Value School" by University Research & Review year after year.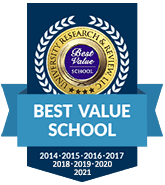 Distance learning? That's what we're all about.
WGU utilizes competency-based education to ensure that more students can pursue higher education. While some of our healthcare and teaching degrees have in-person requirements to graduate, you'll study, learn, do assignments, and take tests all on your schedule. You can move through courses as quickly as you can master the material and our online format means you can do all your learning from the comfort of your own home. Additionally, we have dedicated mentors who are focused on helping you be successful, wherever you are.
Earn your degree for about half* of what you'd pay at other online universities.
WGU students pay half the tuition and end up with half the debt of the national average.
*WGU average annual bachelor's tuition rates are 57% the national average, compared to national rates reported by the Integrated Postsecondary Education Data System. WGU average rate does not include rates for WGU Bachelor of Science, Nursing Prelicensure program.

Low, flat-rate tuition.
Graduate faster and with less debt.
Financial aid and scholarships available.
Online education with supportive faculty.
VA and military benefits accepted.
Great return on investment.
All course materials for a low flat fee.
Spend less with flat-rate tuition.
You pay tuition per six-month term, not per course or credit. So when you move faster through your courses, you also lower your total bill!

Tuition rates effective August 1, 2021. Tuition covers unlimited courses per term. 
All programs: $145 per-term Resource Fee covers e-textbooks and learning resources, saving you thousands. Non-refundable $65 one-time application fee. Program fees and other fees: Some programs have small per-term or one-time fees specific to that program's costs. Your Enrollment Counselor can provide more information.
Your degree is closer than you think.
New students can begin their first term at the beginning of any month. So you can start when you're ready, rather than rushing (or waiting) for fall or spring enrollment.
Get a Program Guide, personal admissions help, and apply FREE this week.
We offer degree programs in four in-demand fields. Explore what else is available.