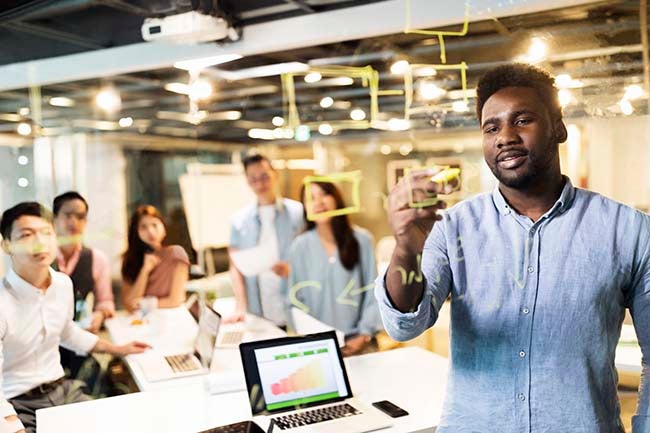 They keep their team on task, on time, and on budget—they're the project manager. But who is the project manager, really, and what do they do?
Let's dive into a typical project manager job profile to find out what a project manager does, how much they earn, what skills and certifications they need to have, and, most importantly, how you can become one.
What does a project manager do?
Project managers do exactly what you'd expect them to do: They manage projects. More specifically, project managers oversee projects from concept through completion and collaborate with all of a project's contributors.
In the planning stages, they define the scope of a project and manage the schedule and budget; as the project develops, they manage its progress, building new workflows and facilitating vendor cooperation as necessary, troubleshooting issues, and developing outside-the-box solutions to client requests. The project manager also manages people, and their teams often comprise full-time and part-time members. And because they're usually the team's sole point of contact with customers and users, project managers need to be good communicators to keep everyone on the same page.
It's a role with an incredible amount of responsibility. A project's success—or failure—usually falls squarely on the project manager's shoulders.
According to PayScale, project managers typically make more than $74,000 a year. Project managers in specialized fields can net more money, though: IT project managers earn about $88,000 a year, and senior project managers can bring in six figures. If a project manager is well-versed in agile software development methodologies, strategic project management, or business analysis, these skills can boost their salary, too.
What does a project manager's day look like?
A project manager's day-to-day workload varies depending on how far along the project is. But most project managers share common tasks; for instance, they usually run the daily stand-up, a quick meeting that sets the team's tasks for the day.
Project managers, whatever their industry, also:
Identify and manage the scope of a project
Assign a team's tasks
Participate in client meetings and communicate with outside stakeholders
Track a project's budget and schedule
The project manager is the customer's voice on the team, advocating for the customer when the team makes decisions that might not benefit the user. The project manager also mentors junior team members, leads the team through challenges, and ensures that a project is running on time and under budget.
Who hires project managers?
Project managers are found in several fields. The role is common in IT, where project managers are often responsible for software development. But they can also be found in any industry where teams need to focus on one project at a time.
Project managers are common in construction, where they oversee building projects from start to finish. In engineering, project managers manage the development of a specific device or piece of technology. In insurance, project managers act much like a construction project manager, overseeing specific insurance claims, such as the restoration of a client's home after a disaster.
Each field is governed by different laws and requires different processes and certifications, but many of the collaborative touchpoints and daily tasks are the same.
Who makes a good project manager—and how do I become one?
If you've worked on a team led by a project manager and are familiar with how project management works, you might fit the project manager job profile. The most promising prospective project managers have led smaller teams or have helped project managers with budgeting or scheduling. They should have exceptional organizational skills and a strong knowledge of spreadsheets, collaborative list-making applications, and other various task-tracking tools. Strong communication is also necessary, as project managers work with various stakeholders with a range of responsibilities and skills.
Most project managers hold a bachelor's degree and have some experience in the field. Depending on the industry, some employers require project managers to hold certain certifications. IT project managers, for example, might seek out certifications such as the Certified Associate in Project Management credential or the Project Management Professional certification.
No matter their experience and qualifications, however, aspiring project managers need to be enthusiastic team players. They're ultimately responsible for turning a concept into reality, and it's their ability to motivate and organize that gets the job done.