By Lisa Abbott

The heavy fog enveloping the Indiana State Fairgrounds on this early November morning makes it seem like a dream. But for the 800 Western Governors University graduates who will soon walk across the Farmers Coliseum stage, today's commencement is anything but an illusion. It's the fulfillment of a long-held dream.
Inside, a projected WGU logo runs from the Coliseum's stage floor to its ceiling. Draped tables uphold rows of neatly stacked, hardbound diploma cases, each engraved in gold foil with the university's logo. Family and friends occupy nearly every stadium seat, cell phones and video cameras poised to capture memories of the occasion.
Music cues the ceremony's beginning. Faculty members lead the procession, garbed in ebony robes and the rich hues of academic regalia. The parade of royal blue hooded gowns and golden tasseled mortar boards enters the arena next. WGU Indiana Chancellor Emeritus Allison Barber takes the podium and welcomes the crowd. Next, jumbotron screens project images of graduate speakers Michelle Shaffer and Dion Brown as they share their inspirational stories of overcoming obstacles to finish their WGU degree. Commencement speaker and Cook Medical Group CEO Pete Yonkman delivers his address and a surprise announcement–Cook Medical will offer ten jobs exclusively to WGU alumni of the class of 2018. 
Then, the moment the crowd has awaited. One by one, each grad crosses the stage for a handshake, pauses for a photo opp and receives the parchment certificate that symbolizes  personal achievement. WGU President Scott Pulsipher congratulates the graduates and takes a signature selfie of the crowd. Music commences the recessional and marks the ceremony's end.
Outside the Coliseum, the early morning fog has given way to sunshine. Friends and families wait outside the entrance, bearing flower bouquets and hugs for the loved one they came to support. The graduates emerge. A million cell phone cameras capture smiles and tears and memories. Fathers in commencement garb hold babies in their arms. Mothers in mortar boards embrace excited children and squirmy toddlers. Sons and daughters hug beaming parents. Family clans, friend groups and work colleagues pose for digital portraits of this moment they'll long remember.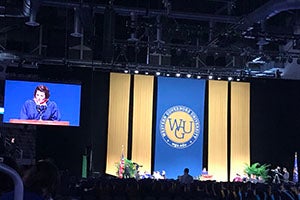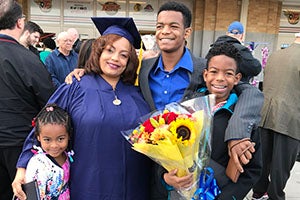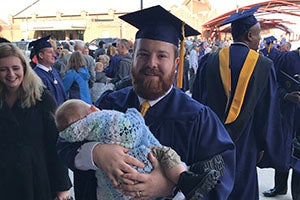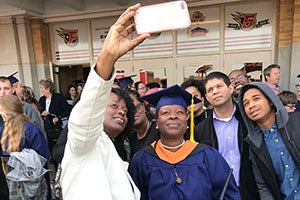 For the WGU faculty and staff in regalia, observing the scene, all of the teaching, coaching and encouraging culminates on this day. Commencement celebrates all that the university stands for–personal and academic achievement for every student. The fulfillment of a dream. An entrance to a world of new opportunities, with a hard-earned diploma in hand.