By Taylor Williams
Internships are a vital part of your college career. They can either serve simply as the check in the box for college credit or as exciting, real-life work experience in a prospective career field. This summer, I had the pleasure of interning with WGU Indiana; Indiana's nonprofit, online university. During this internship, I had the title of Public Relations Intern. Going into the internship, I knew my duties would include all things writing and social media, but I never knew that I would be immersed in a supportive community that made my internship feel like home. Through this internship, I was able to gain experience in writing, social media, networking, interviewing, video shoot etiquette and much more.
From day one of my internship. I knew it would be a wild ride. If you know anything about public relations, you know there's no such thing as a "typical day." I first met my supervisor at 7 a.m. on my first day. I was greeted with a hug and a statement of "there's been a change of plans." Not thinking that my first day could be one of those not-so-typical-days, I laughed to myself and said I understood. I knew at that moment that this summer was going to be one to remember.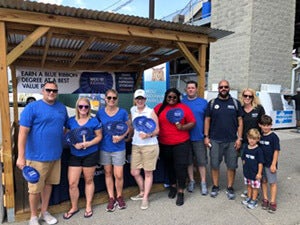 One of the busiest days at the Indiana State Fair. We interacted with tons of students and handed out lots of fans.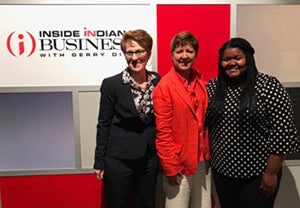 We spent the afternoon at INside Indiana Business, where WGU Indiana Chancellor Allison Barber was a special guest on the show. I had the opportunity to meet the show's host, Gerry Dick.
From the first day of meeting WGU Indiana's office staff to my last day before heading back to school, they were so welcoming and played a big role in making my internship so valuable. From cracking jokes throughout the office to giving career advice, they were always there to lend a helping hand. Throughout my internship, I also had the pleasure of meeting course mentors, enrollment counselors and instructors who also played a supportive role and made my experience treasurable. Hearing their story and why they were so passionate about what they do made me realize how important it is to work for a company whose mission and values align with yours.
After reflecting on my time as an intern, I found these few takeaways extremely important for future internships and jobs:
Go into an internship knowing what you want to get out of it. I knew I wanted to intern with WGU Indiana because it was in higher education. With plans on working in marketing and communications for a university and eventually teaching, I knew that this would be an important internship to partake in. It's important to know what you want to get out of an internship, so you don't go through everyday motions not getting any meaningful experience out of it. My supervisor and other employees made sure that I was always getting what I wanted out of my internship and not just doing busy work. It's important to note that what you want out of the experience doesn't always have to be major related. One big thing I wanted help on was interviewing. The chancellor and other employees would take a few minutes of their day to ask me questions and see where I needed help.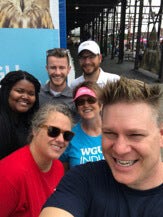 One of the many days at the Indiana State Fair.
Take advantage of every opportunity given to you. I'm so thankful to have a supervisor that included me in every phone call, meeting and outing that would be beneficial to me. I was able to get experience behind the scenes during video shoots, sit in on conference calls with other PR managers and also attend networking events. During my internship, I was given the opportunity to interview a student that was receiving a scholarship. While this wasn't something I had experience doing, I watched my supervisor interview many scholarship recipients and was able to catch on quickly. These opportunities not only gave me a glimpse into the busy life of PR managers, but it also gave me the opportunity to learn and grow on the spot.
Keep a notepad and a pen ready. I had a designated notebook that I took notes in, always. I used it to stay on track with what was happening in meetings, to create to-do list and as a reference when I needed a refresher. There was a lot of information covered daily and I wanted to make sure I didn't miss a thing. When you use a notepad and pen, the information is easier to stick in your head, rather than typing it on a laptop or tablet. It's always great to go back and make sure you are up to date with what's going on.
Never stop learning. One of my favorite things about my internship was that I never had a day where I wasn't learning something new; whether it was being taught how to do a task differently, how to work the office copy machine or learning about everyone's role in the office. My mind was always being challenged. When I had lighter work load days, I found it important to help out in other areas if it was needed. The office relies heavily on lending a helping hand when you can. When you help out in different areas of the office, you get to learn the different aspects of each person's job and how it plays a role in the bigger picture.
Have fun. The most important part! It was easy for me to have fun because I love my major and this internship was able to reinforce that I am pursuing something that I love. If you realize you aren't enjoying what you do, it isn't the end of the world. Take what you learned and still apply it to your other ventures. Be thankful that you got experience in something you don't enjoy, so you can avoid pursing something similar in the future. The office was filled with fun, energetic people, so they kept me on my toes!
One of my favorite parts about my internship was being able to attend scholarship presentations, nurse pinnings and events that celebrated students. Being student-driven is a part of WGU's mission and I was able to see that firsthand. It was an honor to be able meet and hear student stories and interact with the students face-to-face. When people think of online universities, they think that there is no interaction between students and faculty. The students I met have the some of the best relationships with their faculty, staff and mentor. Meeting these students was a prized moment because I was able to put a face to whom I was doing my work for. Posting about scholarships, job opportunities and networking events became more meaningful because I built personal relationships with these students and want to continue to see them succeed. During the Indiana State Fair, I was given the opportunity to highlight the students that stopped by the parklet and celebrate their stories on social media. It was truly heart-warming, meeting their families and seeing their support system that was with them the entire duration of their degree completion.
My internship with WGU Indiana was an amazing experience which helped me grow in various ways. Whether it was stepping out of my comfort zone and interacting with hundreds of people at the Indiana State Fair or simply improving on my writing skills, I was constantly growing. I was able to make meaningful connections and participate in thought-provoking conversation. It was so wonderful to walk into work every day feeling like I'm where I am supposed to be. After completing this internship, I feel energized and ready to push myself further. I'm ready to continue to develop myself in my last year of undergrad and prepare myself for a bright future in my career.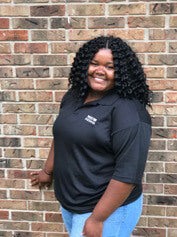 I was all smiles as I ended my last shift at the Indiana State Fair. I met a lot of people, pushed myself beyond my comfort zone and had a great time doing it.