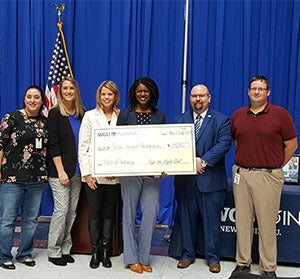 WGU Indiana Chancellor Alison Bell and Lindsay Taylor (WGU Indiana Manager of Strategic Partnerships) present the 2019 PRSW scholarship check to Mikka Jackson, M.Ed., Deputy Director of Talent Management, State of Indiana and WGU Indiana student recipients at WGU Indiana's 2019 award ceremony.
As WGU Indiana continues its quest to award more than $1M in scholarships in 2020, after a record year in 2019, WGU Indiana recently announced the return of its annual Public Service Recognition Scholarship. Available to State of Indiana employees, the Public Service Recognition Scholarship offers $10,000 in scholarships to honor WGU Indiana students who simultaneously serve our nation as federal, state, county and local government employees. 
The Public Service Recognition Scholarship will extend four scholarships worth $2,500 each that are eligible toward any of WGU Indiana's 60 online degree programs. Applications opened May 4, and the deadline to apply is Oct. 31, 2020. See below to learn how the PSRW scholarship has already positively impacted two WGU Indiana students by helping them achieve their dream of earning a degree: 
Shawnna Ajeigbe - Pursuing a B.S. in Human Resource Management 

"I am currently in the administrative field and a state government employee. I was interested in broadening my knowledge in human resources and WGU Indiana gave me the financial means to pursue my Bachelors of Science in Human Resource Management. Receiving the PSRW scholarship and the recognition that comes with it was an amazing and empowering experience. It motivated me and allowed me to continue pursuing my study of interest. 

If I could give any advice to fellow public servants thinking about furthering their education, I'd say to go out and pursue your educational goals! You can always find excuses to delay your dreams but it's necessary to push yourself because it may never be the 'right time' unless you create it."

Amy Holeman - Pursuing a B.S. in Business Administration, Management 

"I am currently working with the Indiana Department of Transportation as a travel coordinator and accountant. The PSRW scholarship allowed me to continue working toward my Business Administration degree, without it I would not have been able to sustain my education. I greatly appreciate the scholarship recognition, and it also proved my hard work has not gone unnoticed.

My advice for other government employees thinking about furthering their education, is to just do it! Even though there are long days and tired nights, pursuing this degree has allowed me to better understand and interact with my professional environment."

WGU Indiana offers more than 60 bachelor's and master's degree programs in business, IT, healthcare, and K–12 education. WGU's programs are built to be flexible and to fit the lives of busy working adults. For more information on the PRSW Scholarship and to apply, visit our scholarships page.