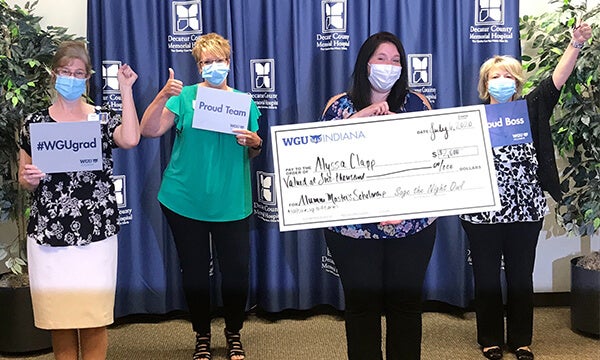 Alyssa Clapp was presented with her scholarship in a socially distant celebration.
Alyssa Clapp of Westport, Indiana, is the recipient of the $2,000 Alumni Master's Scholarship—an award she received after just beginning the Master of Business Administration (MBA) program with WGU Indiana in early July 2020. Alyssa had recently completed her bachelor's in healthcare management in 10 short months through the online university when she decided to continue pursuing her professional goals through the master's program. 
The WGU Alumni Master's Scholarship is an exclusive scholarship available to WGU alumni who are interested in pursuing a master's degree. This scholarship is one of many that are made available to qualified students throughout the year. 

Alyssa was able to experience an in-person scholarship presentation at Decatur County Memorial Hospital in Greensburg, Indiana, where she works as a lab supervisor. Her coworkers were excited to help her celebrate with donuts and a pitch-in lunch, all while practicing social distancing. 

"At some point, I'm hoping to change career paths and work in a production or factory environment in a management role," said Clapp. "I'm open to any industry, though." 

What led Alyssa to WGU Indiana was that it was completely online and she could do the coursework at her own pace and could accelerate pretty quickly if needed. Prior to starting at the university, Alyssa had a few other people in her life who were also WGU Indiana students. 

While the MBA program generally takes four, six-month terms, Alyssa has set a goal to complete it in one term. And the advice she'd like to offer to new students pursuing the MBA program: "Stay focused on the end goal."