Indiana Commissioner for Higher Education Teresa Lubbers has said, "Caring, committed, and competent teachers in the classroom are the most important factors affecting students' educational success." But attracting and retaining educators poses a significant challenge for school districts across the state of Indiana—and the nation.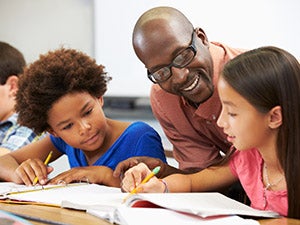 According to a 2017 study conducted by Indiana State University, 94 percent of Indiana public schools are struggling to fill teaching positions. Nearly a quarter of Indiana's public school districts employ full-time substitute teachers to compensate for unfilled teaching positions.
Educators in science, technology, engineering, and mathematics (STEM) subjects represent one of the areas of greatest need, as the state has a 57 percent shortage. Exacerbating the overall teacher shortage are the continuing increases in traditional college tuition costs and decreases in teacher salaries.
The state seeks solutions.
Institutions and school systems in Indiana, and across the country, are exploring creative ways to attract and retain teachers. Many of these ideas center on five core strategies: alternative certification, financial incentives, mentorships, evaluation and feedback mechanisms, and professional development opportunities.
The Indiana Commission for Higher Education sponsors the Next Generation Hoosier Educator Scholarship, which awards up to $7,500 per year to high-achieving students to use toward a bachelor's degree in education. Recipients are required to earn their degree from an Indiana university and must agree to teach in the state for a minimum of five years after graduation.
The Indiana General Assembly and the State Board of Education have proposed a state-funded mentoring system that provides aspiring teachers with more opportunities and resources to spend time working with children in the classroom. The organizations also are weighing a proposal to let teachers develop their own student assessments, in lieu of standardized testing, to better involve educators in developing curriculum and to strengthen their job security.
The role of higher education.
Indiana's universities are taking other measures to encourage students to pursue degrees in education. Some are seeing results, evidenced in increased enrollment. For example, the state's non-profit online university, WGU Indiana, has seen a 117 percent increase in students enrolled in its College of Education over the past eight years. In 2012, WGU's competency-based STEM education program produced the greatest number of early education graduates in the nation in the areas of mathematics, biology, earth science, and physics.
Part of the university's success is attributed the recognized strength of its offerings. WGU's Teachers College is regionally and nationally accredited by the National Council for Accreditation of Teacher Education (NCATE). In its 2014 review of 2,400 teacher education programs nationwide, the National Council on Teacher Quality (NCTQ) recognized WGU's secondary math education program as first in the nation. In 2015, WGU's Teachers College was named the "best value" in teacher education by the National Council on Teacher Quality (NCTQ) and scored highest, out of 1,100 education schools and programs reviewed nationally, on a combination of factors including quality, affordability, and how well the school prepares future teachers for the realities of the classroom. The NCTQ also ranked WGU's secondary teacher preparation program as the top program in the nation. WGU was one of only ten institutions named to the top lists for both elementary and secondary teacher education.
The university offers several scholarships for new students, including the WGU Loves Teachers Scholarship (through June 30, 2018), which provides up to $2,000 to prospective and experienced teachers who want to advance their careers with an undergraduate or graduate degree. WGU's affordable, flat-rate tuition of under $7,000 per twelve-month term and its competency-based learning educational model enable students to accelerate and save money.
To learn more about WGU Indiana's education degree programs or to apply for admission, visit here.