Congratulations to WGU Indiana alumna Chelsa Murrell RN-BSN, CPST, CBE, who recently received a $2,000 WGU Indiana Alumni Master's Scholarship! Surrounded by her coworkers, Murrell was presented with her scholarship at her employer, IU Health Southern Indiana Women's Health Group, in Bloomington.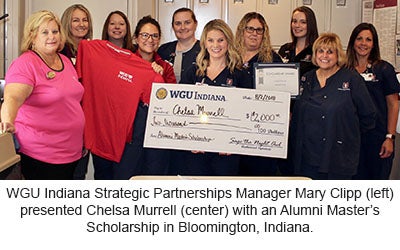 Having worked as a nurse for six years, Murrell had experienced the challenges and rewards of nursing in both inpatient/hospital and outpatient/office settings. She planned to pursue a graduate degree in nursing after she completed her BSN with WGU, but it was her practical nursing experience that unveiled her desire to lead in the business side of the healthcare field. With a long-term goal of becoming a hospital executive, Murrell decided to pursue her Master of Science in Management and Leadership with WGU Indiana. She's working hard and is well on her way to achieving her goal of a second degree.
To learn more about WGU Indiana's scholarship opportunities, visit here.