Our university was featured in Fast Company, again. Last month, we were named one of the most innovative companies in the world and this month, Bill Gates promoted our model in an interview for the magazine. Click here to read the full article. 
When asked about what works and doesn't work in education, Bill Gates discussed WGU as a model that does work. He focused on the traits of our students and described them as people who "have a career goal in mind, are fairly motivated to finish and are persistent." Gates also underscored that "what works for one student won't work for another."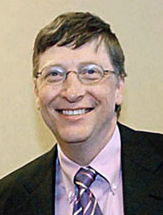 At a recent student event, I met a WGU Indiana undergrad who works full-time is a husband, parent and coach. He typically starts his schoolwork after putting the children to bed. He is similar to most of our students who are determined to earn a degree while maintaining a hectic pace. At WGU Indiana, we know our students are focused, persistent, goal-oriented and have individualized learning styles. We are glad Bill Gates knows it, too. 
What about the WGU Indiana model works for you? Let us know in the comments below!