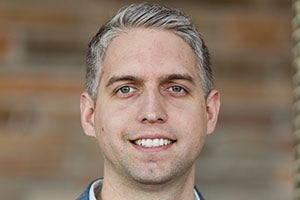 Jared works in Technology Services at Jack Henry & Associates, where he leads a cloud engineering team that is responsible for supporting the organization's use of public/hybrid cloud. Pursuing a master's degree in information technology management will provide him with formal validation of his competency in leading information technology teams.
"An M.S. Information Technology Management degree will support me as I look to advance my career," Jared said. "It also sets me up for success if I choose to pursue a post-corporate teaching career."
Jared enrolled at WGU Missouri in 2018 after quickly starting and ending an online MBA program at a traditional university a year prior.
"I learned that I did not have the time to complete a program on a traditional class schedule, and I needed to be able to put courses on pause when life or work dictated," he said. "I also realized I was not interested in accounting or finance anymore."
While WGU Missouri's degree program in IT management was appealing to Jared, he also found comfort in learning that WGU is a regionally accredited and affordable institution.
"WGU checked all the boxes for my pursuit of higher education," he said. "Plus, with the ability to accelerate the completion of my degree by bringing in industry knowledge and doing so on my schedule, it just made sense for me to pursue a degree through WGU."
WGU Missouri's competency-based model will allow Jared to complete his program in one, six-month term.
"WGU and its competency-based approach was the only way I was going to complete a higher-level degree in a reasonable timeframe," he said. "I've been able to maintain balance as coursework could be completed on my schedule. I've also been able to bring in industry knowledge and skills to accelerate the completion of my degree program."
After earning his undergraduate degree at a traditional university, Jared has quickly settled into life as an online student.
"WGU Missouri is quite a bit different from traditional schools in that there are no set schedules for assignments and no set lectures to attend," he said. "It is truly self-paced and up to me on how fast or slow I complete my assignments. The courses have also proven to be less stressful as I write papers based on industry experience and what I learn in the course, instead of just trying to strive for a letter grade."
Thanks to WGU, Jared is now, more than ever, prepared for a successful career in IT.
"From disaster recovery to risk management to technical communication, I'm now a more well-rounded information technology professional," he said. "WGU has reaffirmed that I am in the right career and has better prepared me for IT management."