Everyone is working towards something. Whether that's a career, a soulmate, a house, a family, or otherwise (in no particular order), there is always something to achieve, something to eagerly attain. For 29-year-old Breeanna Tallakson, that was all of the above, and then some.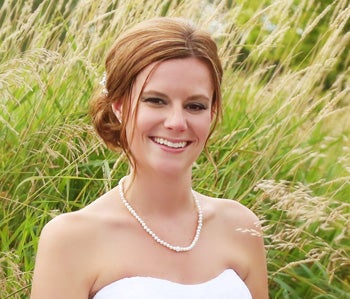 As a third-grade teacher at Gordon McCaw Elementary School in Henderson, Breeanna felt it was time to progress onto the next big thing in her life. At 22, she moved to Nevada and got placed in a classroom right away doing student teaching. But because the school she desired to teach at wasn't hiring, she ended up long-term substitute teaching. Eventually, she was able to move her way up to teaching first grade for a few years and then, within the last four years, third grade. Having found a career she's very passionate about and has years of experience in, Breeanna finds that influencing youth to engage and learn is incredibly rewarding.
Although she'd found her way around a classroom and the complex nature that is elementary school students with much success, Breeanna began looking forward to caring for her own children soon. But before the crazy-hectic lifestyle of being a mother could start, she wanted to go back to school to get her master's degree. Having already been a teacher for seven years at her young age, Breeanna was looking to be challenged in an entirely different way, and hoped to secure a kind of leadership or administrative role in the future. But before she could dive in to getting her degree, she had to find a school that fit the demands of her working adult lifestyle.
"I wanted an educational experience where I could work at my own pace. I am someone who likes to excel and not be held back in assignments, etc.," said Breeanna of her quest to find the right online university. In searching for master's degree programs in educational leadership, Breeanna ended up taking the plunge with WGU. And she's grateful she did.
"I loved being able to work online and converse with my mentor when I needed to," Breeanna said. "I was able to just go through as I wished and I really liked that." In June of 2014, her wish for a more secure future came true: She earned her M.S. in Educational Leadership.
Since earning her master's degree, Breeanna has been allotted more responsibility at Gordon McCaw. "I've been given other tasks and responsibilities from my administration because of my degree," such as site administrator for tutoring, grade-level chair, and head of the school's crisis plan, Breeanna said.
Now, Breeanna is on her way to completing steps two and three of her life checklist: She married the love of her life last July and is expecting their first child in October. Congratulations, Breeanna!