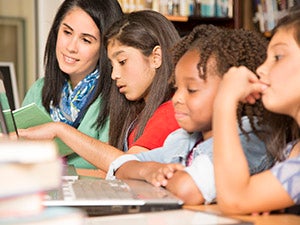 Whether you have moved in from out of town, just graduated, or are looking for a career change, a job in education could be right for you. Teacher Certification Degrees found in a recent study that The Nevada Department of Employment, Training, and Rehabilitation projects 651 average annual job openings due to growth and 431 average annual replacement job openings for school teachers in Nevada from 2014 to 2024. Excluding special education teachers. With a growing population and a growing demand for educated students, teachers are needed throughout the state. 
According to research done by Teach.com, there are approximately 50 separate fields of education where there is a statewide shortage of teachers. These areas of education can range from adolescent education all the way up to postsecondary school. 
To acquire a teaching degree in the state of Nevada, you must fulfill at least a bachelor's degree. Every field has different prerequisites you must complete to fulfill that degree. The three main fields of education are Elementary Education (Grades K-8), Middle School/ Junior High (Grades 7-9¬), and Secondary Education (Grades 7-12). 
After completing your bachelor's degree, you must go through a Nevada Teacher Certification program. Teacher Prep programs, like the ones at WGU Nevada, qualify you to become licensed in the field of your choice (Elementary Education, or secondary Mathematics, Science, or Social Science), training you to become a highly qualified teacher. These programs include supervised practice teaching (see step #5: Demonstration Teaching) in an actual classroom setting.
The third and final step is to take the required test for that field, according to Teach.com, "Nevada requires the Praxis Core Academic Skills for Educators tests for basic skills, the Praxis II: Subject Tests in your specialty area, and the Praxis II PLT (Principles of Learning and Teaching) Grades K–6 or 7–12 for teaching those grade levels. Candidates for licensure are also required to demonstrate knowledge of Nevada School Law, the Nevada Constitution, and the United States Constitution. This requirement may be satisfied either through testing or through college/university coursework." After you complete these necessary steps, including a background check, you are qualified to teach. 
Depending on what type of teacher you choose to become and what county you're in, your salary can range greatly. Teachingdegree.org stated that the salary range is typically $44,411 to $66,001 and The Department of Education reports the average salary for a Nevada certified teacher is $52,012. This source found the Reno-Sparks area to have an average teaching salary of $51,490, Las Vegas to have an average of $49,050, and Western Central nonmetropolitan area to have an average of $47,050. Almost all parts of Nevada have job openings for incoming qualified teachers. 
With so much growth in Nevada in recent years, we have seen leaps in the quality of education that is offered in the state. With this growth, the demand for teachers will continue to increase. This makes a degree in education an excellent choice for securing a stable job. WGU offers a wide range of bachelor's and master's programs for whichever field of education you wish to peruse. These affordable online programs are designed to fit around any busy schedule and allows many already working adults to go back to school and pursue a degree while still maintaining other responsibilities.