A love for business, a passion for cars, and a strong work ethic were the driving factors for Sean McDonald's career path. He began working full time in the food and beverage industry at a young age and continued through high school, eventually working his way up to management. In Sean's words, he had no problem building a resume and finding "good" jobs, but he never had a "great" job – one that he was passionate about and could make a career out of.
That is, until he landed a job in the automotive industry.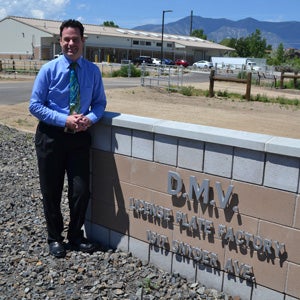 In 1996, Sean left the food and beverage industry for a job with Enterprise Rent-A-Car. He worked for both Enterprise and Hertz as a branch manager throughout Nevada for almost a decade and developed a robust understanding of the business. His enthusiasm and dedication to his job were noticeable, and it wasn't long before Sean was offered promotions.
He never tired of the work but did grow tired of commuting so far, so he kept an eye out for jobs that were closer to home. A position with the Nevada Department of Motor Vehicles fit that criterion. Sean was hired as a management analyst handling policies, procedures, and project management. Obtaining a college degree had previously crossed his mind, but with the DMV it became evident that he would need one in order to advance.
Several of Sean's co-workers completed their degrees with WGU and recommended that he investigate. "For years my biggest reservation about going back to school was how I could possibly balance school, work, and personal priorities," said Sean. "Once I enrolled, it was challenging – but WGU Nevada offered a realistic solution. My co-workers successfully earned their degrees and found a way to make it work, so I knew I could as well."
"The best thing about WGU Nevada is that the course work was challenging, but it wasn't impossible, and it was extremely relevant," he explained. "Between the course mentors and the resources provided within the courses themselves, the information you need to succeed are all provided for you!"
With a busy job, attending a brick-and-mortar school was never an option for Sean as he needed to continue working to support his family.
Sean completed his B.S. Business Management degree in 18 months. He took a short break to focus on work and spend time with his wife and four children before returning for his MBA a year later. Nights were long, but with the support of his wife, Sean used the time after his family went to bed to work on school.
When he received a work assignment to relocate and construct a new license plate factory for the state, Sean was able to use the assignment as his capstone project. Nevada's old license plate factory sat on the same property as an old prison, and it was being torn down. He was tasked with constructing a brand-new factory, finding a new vendor, and making a new contractual agreement for a product line: new Nevada license plates.
"WGU Nevada's MBA program actually focused on increasing production, and there was a simulation for manufacturing specifically," Sean said.
The re-location and production method had to be legislatively approved, so Sean worked closely with the state and, through the sale of license plates, was able to fund the project.
Sean graduated with his MBA from WGU Nevada and, due to his great work during his capstone project, was promoted to division administrator with the Nevada DMV two months later. Four years in the making, Nevada's new factory opened on July 6, 2015, with all new equipment. As division administrator, Sean is in charge of everything that happens behind the scenes in the license plate factory. Registration renewal, vehicle titling, insurance verification for registered vehicles—he is in charge of them all!