Distance learning, also known as online education, will help you to manage your education and to schedule it wherever and whenever you're available. If you live in a large city, it is likely you already enjoy relatively easy access to a traditional brick-and-mortar university to continue your higher learning. However, if you live on the outskirts of town or have a career or occupation that often has you on the road, what educational opportunities are available to you in more rural areas? Not many. The solution to this is simple: distance learning.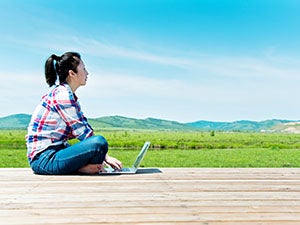 According to the Nevada System of Higher Education's (NSHE) report on e-learning; E-Learning and Higher Education's Iron Triangle: Opportunity, Affordability, and Student Success at NSHE, there is a steady growth of online education happening in Nevada. In fact, "enrollment in distance education courses (students taking at least one course) through NSHE colleges and universities grew 438 percent from fall 2001 to fall 2009." This number will likely continue to increase as more people learn about the benefits of an online education.
Carrie Brown of Nixon, Nevada, a small town near Reno with a population of 374 (according to the 2010 Consensus) chose an online college education. In fact, she earned an M.S. in Management and Leadership and was one of the graduate speakers at WGU Nevada's 2017 commencement.
"My time at WGU was challenging but worth it," said Brown. "Being from a rural reservation, there are a lot of barriers to continuing education—from transportation to tuition costs. The innovative design allowed me to work on my schedule and balance home and education at the same time."
Scheduling, Flexibility, and Pacing: Life happens, and choosing a university that is flexible is vital for many. According to a roundtable discussion by The Guardian, "the roundtable heard that flexibility is an essential part of a modern higher education system. 'The 21st century is calling for new kinds of persons, who can adapt and respond flexibly to the extraordinary challenges we see day in and day out,' said one participant."
Modern Communication: With laptops, cell phones, and even social media—there are so many ways to connect with people. Online education allows for the opportunity to connect with staff and fellow students in a way that works for you without needing to consider office hours at a traditional brick-and-mortar.
Personalized Support: In regards to pursuing online education, many think they will lose the human touch. However, that is not the case. In fact, many online universities provide each student with a mentor who is responsible for keeping the student on track and can even provide moral support when needed. According to a recent study on the satisfaction and overall well-being of WGU graduates released by Gallup, two-thirds of WGU graduates strongly agree that they had a mentor who encouraged them to pursue their goals and dreams—nearly double that of the graduates from the survey's comparison groups.
Whether you live or work in rural Nevada, or you need the flexibility only an online degree program can offer, WGU Nevada can help you achieve your educational goals.