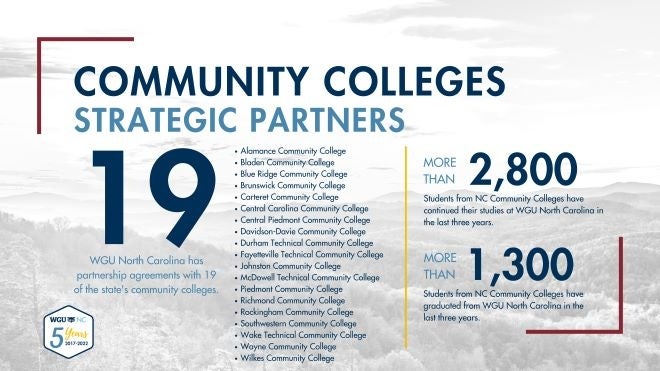 By Tenita Philyaw-Rogers
Senior Strategic Partnerships Manager
Note: WGU North Carolina is proud to be a Platinum Sponsor of the North Carolina Community College System Conference October 9-11 in Raleigh.
2022 marks two significant milestones for Western Governors University: the founding of the university 25 years ago, and the establishment of state affiliate WGU North Carolina five years ago. The impacts of both are undeniable. As of September, WGU has conferred more than 292,000 bachelor's and master's degrees nationwide, including more than 6,500 in North Carolina.
Those graduates are teachers, principals, entrepreneurs, nurses, healthcare managers, IT and cybersecurity professionals, business managers, and more. According to a 2021 Gallup survey of WGU alumni, 70% of graduates surveyed said WGU's online, competency-based model and affordable tuition made WGU "the perfect school for people like me."
When I joined WGU North Carolina three years ago, my main responsibilities were to grow our community college partnerships throughout the state. Our partners benefit from articulation agreements that align curricula for their graduates to transfer to WGU, and from access to designated Community College Partner Scholarships for their graduates and staff. WGU has 19 community college partners stretching from Carteret Community College in the east to Southwestern Community College in the west.  In the last three years, our relationships have led to more than 2,800 transfer students from North Carolina community colleges, and more than 1,300 graduates.
Our goal is to partner with every single community college in the state to provide a seamless pathway for transfer students to earn a bachelor's degree in an in-demand field. I am also proud to serve as a board member representing independent colleges and universities on the College Transfer Program Association (CTPA), a statewide network of community-college and four-year university professionals concerned with transfer. I also serve on many community college advisory committees, including with Central Carolina Community College, Johnston Community College, and Pitt Community College, to name a few.
WGU provides additional resources to members of the military community, including those who are taking classes at their local community college. WGU has been named a Military-Friendly® School for 12 consecutive years, and this year was named the number one online school by Military Friendly. About one in five WGU North Carolina students is affiliated with the military community.
Although WGU offers more than 60 degrees, our most popular bachelor's degree programs for community college transfer students in North Carolina include the following:
Business
•             Business Administration, Management
•             Business Administration, Healthcare Management
•             Business Administration, Accounting
Health Professions
•             RN to BSN
•             Health Information Management
•             Health Services Coordination
IT
•             Cybersecurity & Information Assurance
•             Software Development
•             Computer Science
Education
•             Elementary Education
•             Special Education, Elementary (Dual Licensure) and Mild to Moderate
•             Mathematics Education (Middle Grades)
The impact of our community college partnerships can be felt throughout the state, as we jointly help prepare North Carolinians for the workforce of the future. To meet employers' needs, myFutureNC says North Carolina needs 2 million adults with a high-quality credential or postsecondary degree by 2030.
We are currently 400,000 short of that ambitious goal, but WGU is doing our part by growing our partnerships with employers, economic development organizations, professional associations, and community colleges to get the word out that college degrees are affordable and attainable – especially for working adults who can't afford to quit their jobs to go back to school. Working together, we can help ensure that North Carolina remains a great state to live and work in.