Of the many advertising campaigns WGU runs, one has the tagline "Online. Nonprofit. Surprisingly Affordable."
"Online" is pretty obvious from all of the promotions and advertising. "Nonprofit" may surprise some. But what about "Surprisingly Affordable"?
Is WGU affordable? While circumstances differ for each individual student, the answer is definitely "yes" when compared to the national average.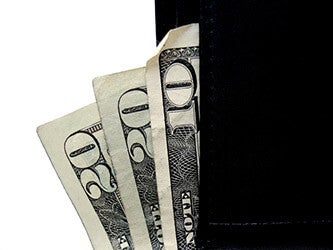 According to a recent article from U.S. News & World Report, the average cost of tuition and fees for the 2018–2019 school year was $35,676 at private colleges, $9,716 for state residents at public colleges, and $21,629 for out-of-state students at state schools. Compare that with WGU's annual cost for tuition and fees of $6,790 for most undergraduate programs.
Not only is WGU less expensive than other colleges, but students tend to graduate faster. WGU does not charge per credit hour, but rather offers a flat rate for six-month enrollment terms. Our model of competency-based education allows students to progress at an accelerated rate once they've mastered the material. The CBE model, along with any transferred college credits, has resulted in an average time of 2.5 years for WGU students to earn their bachelor's degree.
The total cost for most WGU students to earn their undergraduate degree is around $16,975. Does that degree impact their prospects for a higher income? Absolutely.
On average, WGU students increase their pre-enrollment income by $12,600 within two years of graduation, and by $18,400 within four years. That means most WGU students recoup their investment in education within two to three years of graduating.
If you hear others dismiss a degree from WGU or claim it won't get you hired, the data does not back that up. Surveys show that 89% of graduates are employed in-field within a year of graduating. A 2018 Harris Poll of 300 employers of WGU graduates revealed the following:
94% said they would hire another WGU graduate
97% said WGU graduates "meet" or "exceed" expectations
97% said WGU students were prepared for their jobs
87% rated the job performance of WGU graduates as "excellent" or "very good"
Student debt and financial aid.
Even with lower tuition than most universities, we recognize that many WGU students borrow money to finance their education. Paying off student loans can impact one's personal finances and quality of life for years to come.
In 2013, WGU launched a Responsible Borrowing Initiatives (RBI) program to provide better information to students about loans, and recommend they only borrow what they need rather than the maximum allowable amount. The RBI program has helped lower the average debt for WGU bachelor's degree recipients almost $6,000 in the last five years.
For undergraduates who take out loans, the average borrowing per student per year has decreased by 40 percent since the program's inception. WGU students graduate with a student loan debt of less than half the national average.
Additionally, WGU's three-year student loan default rate has dropped from 8 percent in 2009 to 4.1% for FY 2015 cohorts. That's less than half the national average of 10.8 percent.
Many students also qualify for other forms of financial aid such as scholarships, grants and tuition discounts. Most WGU students quality for federal aid and must complete the Free Application for Federal Student Aid (FAFSA) process to qualify. Military veterans who qualify for the GI Bill can use it to pay tuition. If you work for one of WGU's many corporate partners, or graduated from a community college partner, you might qualify for tuition discounts and can apply for special scholarships designated for partner organizations.
In 2018, WGU awarded more than $12.1 million in scholarships to 6,152 students. Scholarships are competitive and awarded based on a candidate's academic record, readiness for online study, current competency, and other considerations.
In addition to general scholarships, WGU offers some that are specific to its colleges – business, IT, health care and education – or specific populations (e.g., WGU alumni, women in leadership, military veterans, employees of partner organizations, etc.). WGU North Carolina recently announced new Military Service Scholarships in partnership with the USO of North Carolina.
WGU remains committed to keeping costs low and helping students graduate debt-free or with as little debt as possible. It has achieved this through low tuition, preparing graduates for jobs in high-demand fields, programs to help reduce student debt, and access to various forms of financial aid.
To learn more, call 866-903-0109 to speak to an enrollment counselor.