A WGU alumnus who began as a struggling math student has progressed to winning awards for tutoring and excellence in mathematics. Now he's using what he learned at WGU to create online coding courses to teach others.
Chris Romano, a resident of northern Virginia, earned his bachelor of science degree in data analytics from WGU College of Information Technology in 2021, after working many years as an IT professional.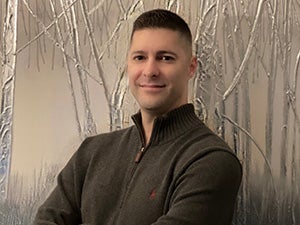 Why did you decide to pursue a BS in data analytics? 
Working in the IT industry, I have used data to secure networks and analytics to gain trend insights. Working closely with data caught my interest, and I began studying data science and data analytics in my spare time. I decided that pursuing a degree would provide a proper structure to expand my knowledge.
Why did you choose WGU? 

By allowing me to have a flexible schedule and access to course material, the WGU online format provided the opportunity to obtain a degree. After comparing the degree programs of several different schools, I felt the courses at WGU were the most relevant to me, with multiple areas of subject content that would allow me to grow the most.
How did WGU inspire you to start your business AI Elemental? 

My journey started long ago when I began college. I struggled with mathematics and Dr. Richard Buck helped me in a tutoring lab. He changed my perspective and showed me that learning anything was possible. From that experience, I began tutoring to help others not only understand, but realize that what may seem impossible could be possible when viewed from a different perspective.  
My experience in creating and teaching courses was primarily focused on teaching in-person. The WGU experience showed me how effective online learning is, and, after completing my degree, I decided that creating online courses to help others learn coding would open-up my career options and allow me to help a larger audience. 

What do you want to do with your degree? 

I have used the knowledge gained from my degree to work with data in my current role and teach courses in the areas I learned, including data analytics, machine learning, networking, security, and data management. I would like to use the knowledge gained through WGU and my professional experience to teach others, to help them to learn and advance their careers.
Whom do you credit with helping you achieve your goals?  

First, I have to thank my wife for supporting me throughout my degree, as I worked very hard. Her support inspired me to reach my goal of completing the degree program. My longtime friend Dr. John Cawley has always helped mentor me and taught me how to view problems by analyzing them in different viewpoints as a system.  This perspective helped me to grow academically and personally when faced with difficult problems. 
What's the best thing about your WGU experience? 

I would say the biggest attribute to my success was the positivity of the WGU staff and students. WGU provides a support system, which is comprised of the mentor, the professors, and fellow students, affectionately known as Night Owls. My mentor, Myron Wilson, would make sure I had everything needed to succeed, and the professors always provided the help and support I needed to reach my goal.