Destiny Coleman was ready to take the next step in her career, but she was having trouble getting interviews. 
"It was like – you have a music degree, what can you do for us?" she said.
Coleman earned a bachelor of music degree in vocal performance from The Ohio State University  and went to work for a local nonprofit arts organization, advancing to director of education in 2014. With a goal of continuing on her career pathway, she knew she would need to expand her skills and knowledge.
Although a master's in arts administration seemed like an obvious next choice, she didn't want to be pigeon-holed. She enrolled in an accelerated MBA program at another university in Ohio, but quickly realized it was not the right fit – she left before the first class was over.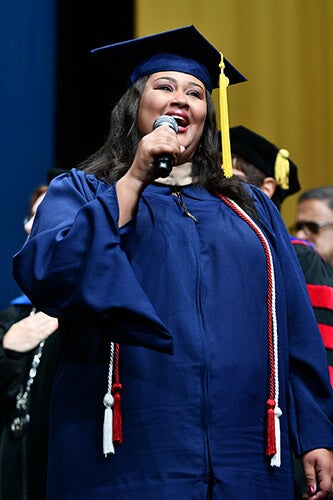 Destiny Coleman sings the national anthem at the Washington, DC, commencement.
Coleman stumbled across Western Governors University in 2016 while looking for online universities. She knew no one associated with the university, so she read a lot of reviews and reached out to an enrollment counselor.
"I'm not a great test taker, so when I saw I didn't have to take the GRE …" Coleman said with a laugh. "I thought: Is this a real school?"
Soon she realized that WGU was not only a "real school" but the right school for her. She graduated in 20 months with a master's degree in management and leadership and now is ready to consider new opportunities.
For Coleman, WGU's affordability and flexible schedule were key. She could take classes on her own schedule and not feel rushed through difficult coursework. She also appreciated the accountability and support from faculty throughout the program at WGU, although it came as a bit of a surprise.
"I didn't realize I had a mentor!" Coleman said.
Her regular mentor meetings took some getting used to, but she came to appreciate them.
"Staying accountable is so important, especially in a program that is online," she said.
Coleman recommends WGU regularly and says WGU was a great experience – capped off by a very special moment at WGU's Regional Commencement in September 2018, held in the Daughters of the American Revolution Constitution Hall in Washington, D.C.
"I got to sing the National Anthem at graduation!"