2018 was extra special for WGU Tennessee! In addition to celebrating our five-year anniversary, we accomplished a lot in our mission to expand affordable, high-quality higher education to all Tennesseans. Not only did we surpass 4,200 active students and expand our enrollment footprint to include students in all 95 counties in Tennessee, we also became the third-largest private, nonprofit university in the state (based on full-time enrollment) and exceeded $2 million in scholarship funding awarded to students in Tennessee since launching.

Distribution of WGU Tennessee students across the state
Expanding access to higher education for employees of Tennessee-based organizations has been a priority of ours, and in 2018, we established five new partnerships to do just that. New partners include MAPCO, Ballad Health, West Tennessee Healthcare, Jackson-Madison County School System and LeMoyne-Owen College.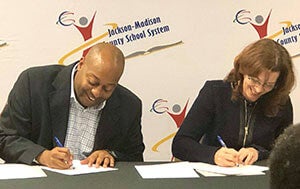 Dr. Eric Green, superintended of Jackson-Madison County Schools, and Chancellor Estep sign a partnership agreement.
In addition to scholarship funding, WGU Tennessee also organized food drives at our holiday parties that generated 1,272 pounds of nonperishable items for local food banks in the Memphis, Chattanooga, Knoxville and Nashville areas.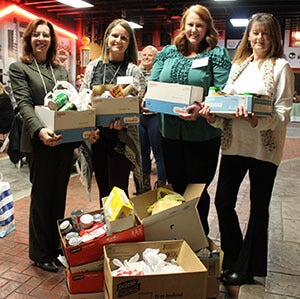 Staff and faculty celebrate the holidays in Chattanooga with a food drive and party.
WGU's employee base – staff and faculty – in Tennessee has grown significantly. We now have nearly 150 employees across the state after starting with less than 20 when WGU Tennessee launched in 2013. Thanks to them, WGU Tennessee earned its fifth consecutive Top Workplaces Award from The Tennessean in 2018.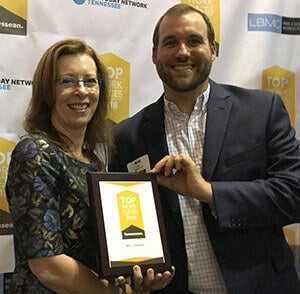 Chancellor Estep and Matt Griffin, WGU Tennessee Public Relations Manager, receive the Top Workplaces Award.
Thanks to all of our students, alumni, faculty and staff, partners and other allies and advocates for helping us make 2018 our best year yet. Cheers to another great year in 2019!