WGU honors Seguin High School English Language Arts Teacher as 100,000 graduate
An act of kindness from an elementary school teacher in Seguin changed everything for WGU Texas graduate Mark Weber. "His name was Mr. Chambliss," Weber said. "I was having trouble at home, and he took the time to notice and sit down with me." Weber said the teacher helped him through a variety of challenges that included time in foster care. He credits his teacher's concern as being a reason he returned to Seguin as an educator.
Before starting his teaching career, Weber served in the U.S. Navy and earned his bachelor's degree. It was coming back to Seguin where his life really changed. Now an English Language Arts teacher at Seguin High school, family man and parent to two young children, he said "There is no other job in the world that I would rather do." Weber wants to help as many students as possible, including those who may be struggling with some of the same issues he dealt with. The compassion of one teacher totally changed the way he thought about education.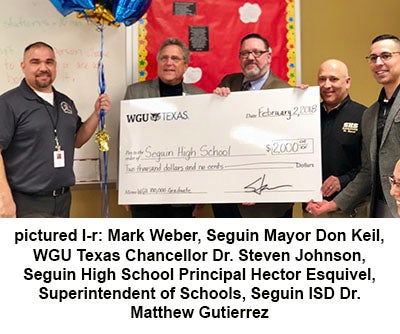 When Weber completed his master's degree in Educational Leadership from WGU Texas in January, he also became WGU's 100,000th graduate. To mark the milestone, WGU Texas Chancellor Steven Johnson and other officials honored Weber with a $2,000 donation to the school during a small ceremony in one of his morning classes. Johnson said that he believes graduates like Weber can influence many lives through higher education and the donation could help him expand the innovative activities he's incorporating in his classes.
Weber admits he struggled to find ways to incorporate technology in the classroom—to integrate some of the things he learned as a student at WGU. He purchased virtual reality goggles and software for students to take virtual field trips to places like Venice, Italy, and to view classic sculptures in three dimensions and write about their experience. "Having WGU come out and present shows that good things can happen," he said. Weber said the donation means he may be able to purchase more technology to expand educational activities in his classes.
"The virtual reality field trip is a stepping stone to expanding your horizons," Weber told his class. "Education is life-changing. It is your ticket to the world." During the ceremony, he told students that a strong work ethic matters more than where you come from and to continue to learn and grow.
What's next for Weber? "WGU helped me meet my professional goals while I was taking care of my family and students," Weber said. "Teaching is a passion and with my master's degree now in hand, I feel confident moving toward stronger leadership roles."
Weber plans to work on his superintendency and earn his Ph.D. His goal is to transform the way teachers teach. As an administrator, he thinks he can have more impact on what happens in the classroom. "Here, I have an opportunity to change 150 lives. As an administrator, there is no limit," Weber said. "I want to take what I learned in the classroom and provide the tools and skills teachers need to help students reach their goals." Seguin High School Principal Hector Esquivel agrees. He worked with Weber at a school in San Antonio and asked him to join the staff at Seguin. "There are students that really need to hear his message and get excited about education again," said Esquivel. He added that when somebody advances their education, they teach the other instructors on campus and offer new tools to help students succeed.
Online, and nonprofit, WGU was established 21 years ago by 19 U.S. governors to expand access to quality higher education, and today it is one of the nation's largest universities. Since its launch in 2011, WGU Texas has been helping increase the number of college graduates in the Lone Star State. Today, WGU Texas has nearly 10,000 students and 7,700 graduates.