By Dr. Steven Johnson, WGU Texas Chancellor
Jesse Macias grew up in the small rural community of Robstown with six brothers and sisters in a three-bedroom, one-bathroom house. Throughout his high school years, Jesse dreamed of going to college. Unfortunately, he didn't receive the kind of academic support, mentorship and guidance he needed, and he dropped out. College life wasn't a great fit. For more than ten years, he went on with his life without a college degree.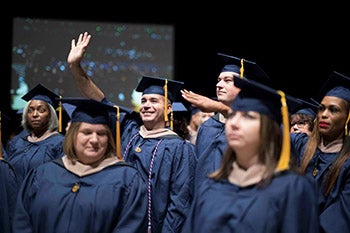 Jesse married, had three kids of his own and decided to give higher education another try. When he made his decision to return, he selected WGU Texas, an online, nonprofit institution of higher learning that uses competency-based education (CBE).
As Chancellor of WGU Texas — one of the fastest growing institutions of higher learning in the state — I'm often asked what competency-based education is, and why it matters.
The simple answer? CBE provides access to higher education by focusing on the mastery of concepts instead of defined course hours sitting in a classroom. It's not based on a one-size-fits-all equation, but rather with the student in mind. It's about overcoming geographic boundaries by closing the distance between students and their dreams of completing college degrees.
CBE is built around the individual needs of every student, with a path to degree completion tailored to students' existing knowledge, skills and abilities to master challenging course material. It also recognizes modern-day work schedules and limited financial resources. WGU Texas uses online CBE to provide quality, affordable and accessible degree options to prepare our students for the careers of today and tomorrow.
Location is particularly relevant for Texans who live far away from the state's urban centers. More than 28 million people now call Texas home. While a majority live in cities, there are still millions of Texans who live in rural areas across East and West Texas, the Panhandle, the Valley, and in between. They are often disconnected from higher educational pursuits — largely because of the disadvantages of their geography. In reality, that traditional impediment to a college degree should no longer exist.
At WGU Texas, students study from anywhere on an independent and self-directed basis — but this doesn't mean they are alone. Our unique student experience includes a faculty member we call a Program Mentor. This vital mentor and coach stays with each student throughout their WGU Texas experience — helping advise and support them as they engage with coursework and achieve their degree.
Our 12,000-plus students come from every part of the state. They have careers and families with major life responsibilities and existing obligations. Their average age is 37, with the age range spanning from the early 20s to the late 60s. They include active-duty military personnel and spouses at overseas military installations.
Our rural student population has nearly doubled from 9 percent to 17 percent in just the last two years alone. The need for access to higher educational opportunities has never been greater or more attainable than it is right now.
That's why we are also increasing our commitment to rural Texans and the unique needs of our students' communities. We're cultivating relationships with public school districts across Texas — including in the Rio Grande Valley, where we are working to expand our reach.
WGU Texas is providing educational and workforce development opportunities that others are unable to match. We are preparing our students for the demands of a modern and rapidly changing economy; workforce development is a key component of our approach to higher education. We do this through strategic partnerships — community-based, corporate and other institutes of higher learning.
Our corporate partners include Microsoft, Shell, Toyota, Spectrum and USAA; community college partners such as Austin Community College, South Texas College, San Jacinto Community College and El Paso Community College; and other key partners, including the City of Austin, El Paso Hispanic Chamber of Commerce, Houston Independent School District, AT&T, Walmart, JP Morgan Chase, Kroger, Michaels Stores, Inc. and Cisco.
These partnerships allow us to provide educational opportunities to our students — no matter where they live. And that also creates a talent pipeline for some of Texas' largest employers and the world's most important companies and institutions.
As State Rep. J.M. Lozano, chairman of the House Higher Education Committee has said: "WGU Texas expands access to higher education to underserved populations across the state. Over the past [few] years, WGU Texas has delivered significant benefits to the state economy and benefits that extend far beyond graduation, with improved earning potential and quality of life."
Over the past two years, we have awarded more than $1.7 million in scholarships to qualified Texans — an increasing number of whom live far beyond the bright lights of city life. We do this because of students like Jesse — no matter their age, place in life or geography — who deserve the same opportunities as those who live in Texas' large cities or other urban areas.
No matter where you live in Texas, or how many college credits you have (or don't have), there is an opportunity for you to join Jesse and many thousands more like him, earning your degree at WGU Texas. Come join our growing ranks.
About the author: A longtime leader in Texas higher education and policy, Dr. Steven E. Johnson, is the Chancellor of WGU Texas, a state-endorsed, nonprofit, accredited university launched in August 2011 to expand access to affordable, high-quality education throughout the state.