Elizabeth Koyle and Trisha Rivera received their MBAs in November from WGU Texas, finishing in less than a year after starting their programs. The pair decided to pursue their degrees together after finding graduate plans suited for their professional goals. Both had earned previous degrees but felt their careers would benefit from additional education.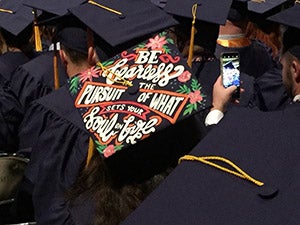 After many years in hospital leadership, Koyle was ready to move up but felt she needed more business background for promotion to a senior-level position. "I still needed to finalize that foundation of business knowledge… to maximize my leadership potential," she said.
Koyle first heard about WGU when she lived in Salt Lake City, Utah, and was surprised to learn about the Texas state affiliate from her employer University Health System, a WGU Texas healthcare industry partner. She reviewed WGU's degree programs and realized she could finally earn her master's degree. "I've always wanted to pursue my MBA and after orienting myself to the competency-based framework of WGU, I knew this was the perfect school for me," she said.
While browsing through the list of degrees, Koyle thought the online university would also be a good fit for her colleague (Trisha) Rivera. "I know her professional goals are to grow into leadership roles and I felt this degree would be useful for that," she said.
Rivera holds a doctorate degree and, like Koyle, she enrolled in the program because she needed a business degree to move up in her field. "I wanted to have the business knowledge to help me be a more successful manager and leader," said Rivera.
They combined their competitive spirits to push one another toward their goals. Koyle said that working on their degrees together would "keep each other accountable." Rivera said the concepts within the degree plan were easier to grasp when studying with someone who was following the program at the same time. "It was nice to have someone … to bounce ideas off of," said Rivera.
Initially, the duo planned to complete their MBA's in one year. The competency-based program allowed them to apply their professional experience to move through the courses at a quicker pace. "[The program] helped me utilize my previous education and professional development to achieve the degree quickly," said Rivera.
Halfway through their journey they realized they could beat their goal. "We realized that hey, we can possibly pull this off in [less than a year], so why not try?" said Koyle. Rivera said she felt motivated by challenging each other to finish sooner.
And they did.
Koyle and Rivera earned their MBA degrees in less than a year from their enrollment date. With their degrees in hand, they are pursuing bigger tasks — separately. Elizabeth re-enrolled in WGU Texas to earn a Master of Health Leadership degree and hopes to graduate next spring. Trisha has since moved into a position that combines her clinical experience with her business education with an opportunity for a promotion in the future.
If you're wondering whether an MBA would accelerate your business career or lead to management and leadership opportunities you wouldn't have otherwise received, visit texas.wgu.edu to learn about our degree programs and competency-based education. If you are a WGU alumni and want to return to school, visit https://www.wgu.edu/returntowgu for exclusive scholarships and other benefits.