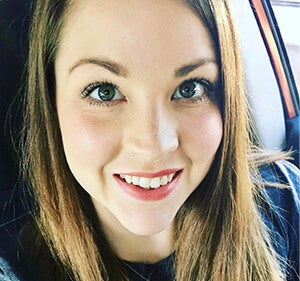 Jackie Sittenauer
When you're meant to do something, sometimes you just know. That was Jacqueline Sittenauer's experience. Jackie's mother was a teacher and she was exposed to teaching at an early age, sending her on path that meant the most to her—following in her mother's footsteps to become a teacher. 
Jackie began her career as a secretary in a student services office. During that time, she started to feel a calling to advocate for troubled students, "These students just want to be heard, understood, and loved," she said. "It is my calling to support and help them succeed." The students she worked with left an impression on her which would lead her to pursue higher education to become a teacher. 
It was always Jackie's plan to study education after seeing firsthand how her mother served students in the classroom. But life does not always go as planned. After experiencing a personal loss, the birth of her son, and a move to another state, she couldn't pursue her degree as soon as she'd hoped. She enrolled in a vocational school program for medical assistance. What she thought was going to be a way to pass the time turned into something she truly enjoyed—teaching patients about their symptoms and acting as a light of reassurance. 
Her calling to teach never faltered, and Jackie eventually began working for a school system. She realized it was time for her to earn a degree and fulfill her inner passion and drive to teach. "It is never too late to go back and change your path," she said.
Jackie enrolled in WGU Texas to pursue her degree and was awarded the Teacher Appreciation Scholarship during a virtual surprise presentation. In an interview with Jackie, she shared her background, what earning the scholarship means to her, and how she will move forward with her career and life goals.
What barriers did you have to overcome? How important is an education in your family and who were your influencers, cheerleaders, and supporters?
Education is very important to my family and me. My mom has been a huge influence to go back to school. I remember as a kid my mom going to school and getting her degree in teaching. I have had to overcome many obstacles. When I left an abusive relationship, I had to leave EVERYTHING I owned except the clothes on my back and my children. Since then I've worked very hard to build back our life and continue my education. In the classroom, I can reach many students who may or may not be experiencing what I went through. I want to be able to advocate for them and remind them anything is possible.

What made you decide to get your degree from WGU Texas? What was your favorite thing about WGU Texas?

A coworker told me about her experience and after talking with her I thought it would be a great fit for my lifestyle and schedule. I love the flexibility it offers.

What does it mean to you to be awarded a scholarship? How does it make you view your studies or experience at WGU Texas?

It means the world. I wasn't expecting anything, and it made me feel as if I wasn't alone in my journey. That I have people who care and are just as invested in my education as I am.

Can you share your future career and life goals?
I want to coteach and advocate for my students in and outside the classroom. So many of our students feel forgotten and I don't want any of them to feel that way. Coteach provides that experience for me. Yes, I have my monitor students, but I can reach all students in the room. My life goals?  I want to provide for my children and show them it is never too late to go back and get your education and make a difference in the lives around you.
Would you recommend WGU Texas to your family and friends? If so, why?
Absolutely! My mom even enrolled after I did when she saw the benefits and flexibility of the program. She's going back for her master's. I think many people think that there's only one thing to do after high school and WGU offers a different approach to that. I wish I had known about it sooner!

The Teacher Appreciation Scholarship is just one of the numerous scholarships and grants available to students pursuing bachelor's and master's degrees. Learn more about our scholarships, including the Become a Teacher Scholarship, and online degree programs in education at texas.wgu.edu.