Often the thought of adding something as ambitious as going back to school to an already hectic schedule can seem daunting, and It becomes easier to fall into the daily routine of work. The WGU Texas team held mini graduation events at Ascension-Seton Hospital in Austin, where we met with four alumni who took the plunge and returned to school, overcame their obstacles, and came out on top—with WGU Texas degrees in hand. Here's their advice for making the return to school a success.
Investing in yourself is the key to growth.
Lilian Juneau worked in healthcare for several years and knew that she would need to earn her master's degree if she wanted to grow professionally. "I heard about WGU's great reputation," said Juneau. "It is a rigorous curriculum but focus and priority got me through."
With determination and support from her mentor, Juneau worked her way through two years of challenging coursework and earned her MSN degree from WGU Texas.
"I was taking care of my elderly mom, my twins, and my husband who wasn't working at that time," she said, "but I learned that being a better nurse meant earning a master's."
Juneau wanted to gain management experience to be a mentor.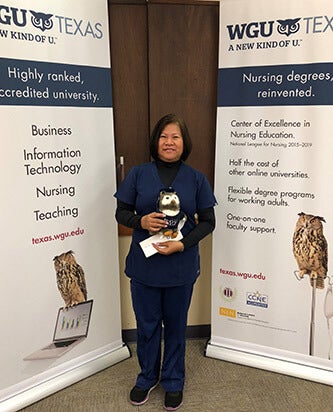 Lilian Juneau
"I want to encourage the staff to invest in their futures because higher education makes us more useful and, in turn, better contributors," she said.
Juneau said the MSN program opened her eyes to the management process, "I learned about emotional intelligence and how important and necessary that is to good leadership," she said. Juneau has been a supervisor for 12 years and wants to be a consultant in the future.
Stability is important in an ever-changing field.
Wendy Eller isn't looking for a management role, but she knows how important it is to be part of an educated workforce. She worked in the medical industry for many years before deciding to invest more of herself professionally by earning her BSN.
"I like to say that I got my degree for personal gratification," she said. "But really, I love my job and because this field is always changing, I wanted to stay up to date."
She graduated after three terms and said she is grateful for her mentor Debbie who encouraged her to stick to her plan. Eller said she strives to be a great nurse and feels that having a degree will help secure her position at the hospital.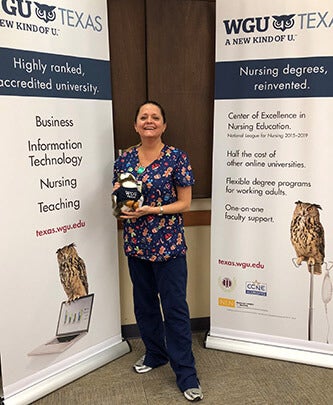 Wendy Eller
Confidence is crucial to leadership.
At the recommendation of her manager, Rachel Conard pursued a master's degree. She worked as a nurse for several years and was ready for a change.
Conard says she was interested in WGU Texas because of its competency-based model and affordability. She could apply what she had learned and move quickly through the courses.
Conard said she once lacked confidence when explaining her logic to stakeholders but after earning her master's she developed "a new-found appreciation for research."
"Now I feel comfortable using what I know to back up my points for best practice methods," she said. Since graduating, Conard has climbed the ranks, and now develops training programs for multiple departments at Seton.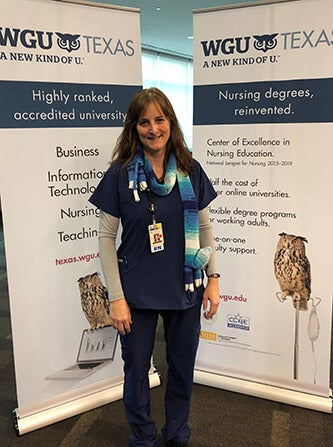 Rachel Conard
Inspired people inspire people.
After her daughter earned a degree in elementary education from WGU Texas, Sue Wilmot felt inspired to start her own college journey alongside her son.
"I loved going through the process with him." she said, "We beat our goal to graduate and walked together in the Salt Lake City commencement."
Wilmot received a bachelor's degree in business and after graduation, she encouraged her son-in-law to earn his graduate degree with WGU Texas. He received his master's degree in IT Security and now works for a major tech company. 
Wilmot works as the Clinic Operations Manager and says working at Seton has motivated her to get a bachelor's degree in health management.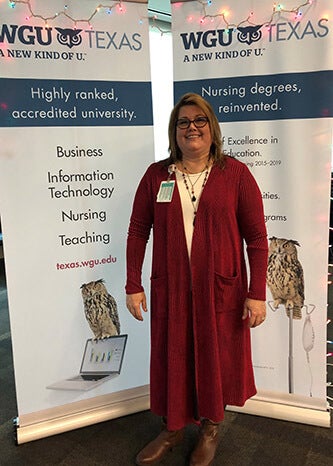 Sue Wilmot
Earning a college degree isn't easy but when steered in the right direction, the payoff is worthwhile. Although each grad's story is different, they all had the same goal in mind — to be better at their jobs, better with their peers, and to be a better version of themselves with a better kind of U.
Visit our website to learn more about the many degree programs offered at WGU Texas.