Honoring Students and Alumni Who Care for Us
Each year, across Texas and our nation, we pay tribute to one of the most challenging and rewarding professions—nursing.
National Nurses Week kicks off May 6-12, and WGU Texas is showing our love for nurses and encouraging Texans' to pursue their dreams of an undergraduate or graduate degree by offering the WGU Texas Loves Nurses Scholarship. Now through June 30, 2017, new students pursuing any one of twelve undergraduate or graduate degree programs in nursing and health care may apply for a $2,000 WGU Texas Loves Nurses Scholarship, and we're waiving the application fee of $65 with code RNLOVE.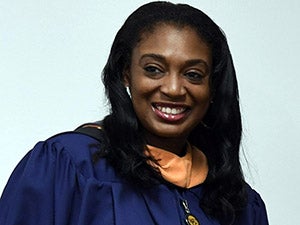 "Nursing is a high-demand, health care field that offers rewarding career opportunities across Texas," said WGU Texas Chancellor Veronica Vargas Stidvent. "We're grateful for the men and women who choose nursing as their calling and profession. And, we want to make pursuing their dreams of a nursing degree more accessible and affordable."
Going back to school is a big decision. A report from the Robert Wood Johnson Foundation cites that a higher-educated nursing workforce is key to increasing access to quality patient care, but high tuition cost, lack of scholarships, time commitment and personal responsibilities are major barriers for returning to school in pursuit of educational and career goals.
The report also adds that as the healthcare system continues to evolve, the demand for more nurses with bachelor's degrees to handle patient care and nursing faculty to educate the next generation of nurses will continue to grow.
For those considering a return to school, the success of RaQuita Weeks-Lee may inspire you to pursue your dreams. RaQuita was already working full-time in nursing and juggling work and family commitments when she decided to get her degree.
"At WGU Texas, I found a way to continue my nursing education even when the odds seemed stacked against me," said RaQuita Weeks-Lee of Cedar Hill, who overcame many personal obstacles on her path to a master's in nursing education and was featured as one of WGU Texas' 2016 commencement speakers.
"My own health challenges and the passing of my mother during my studies could have deterred me from completing my degree, but my WGU Texas family, my mentor and my immediate family stepped in to support and encourage me to stay on track for my M.S. in Nursing – Education. It's a challenging and rewarding career, and I'm grateful for WGU Texas for helping me to further my studies and advance my work in the field of nursing," added Weeks-Lee.
If you're interested in pursuing or reigniting your passion for nursing and health care, WGU Texas offers a wide range of degree programs that can launch or advance your career in this dynamic health care field. Learn more about WGU Texas Nurses Scholarships online and by following @WGUTexas on social media.