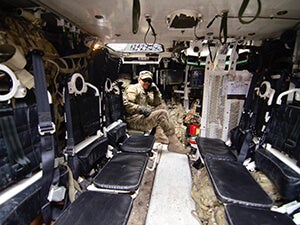 By Angela Condon, Strategic Partnerships Manager – Military Outreach
Military personnel are used to solving problems creatively and can turn on a dime. A veteran I knew was hired by an international company and, over the holidays, was asked to join a team to determine how to move equipment and inventory halfway across the globe. 
This effort had never been done before and the organization did not know how to accomplish the feat. The company pulled a team of former military employees together and challenged them to arrive at a solution within 48 hours or less. The team rose to the challenge and accomplished the goal!
If your organization is looking for self-disciplined and motivated workers who can hit the ground running, you should consider hiring a veteran. Veterans leave military service with a wealth of skills and professional experience, yet many veterans find themselves unemployed or underemployed after transitioning to civilian life.
Here are several reasons why veterans are a great asset to your team:

Better performance.

According to a recent survey by ZipRecruiter, employers are more likely to view veterans as a positive asset to their companies compared to their non-veteran peers. 59.1 percent of employers reported that veterans perform "better than" or "much better than" their non-veteran peers, with 37.5 percent saying they performed "about the same" as their non-veteran peers.
Retention.

Retaining skilled employees is a huge concern, especially in our current environment where opportunities are plentiful. Throughout their careers, veterans are more likely to stay longer at their jobs. 57 percent of veteran jobseekers retain their jobs 2.5 years or longer, compared to 42.5 percent of non-veterans.
Highly skilled.

Need someone who works well in a crisis? A military background instills veterans with skills that are attractive to employers. Veterans are more likely to be efficient, strategic thinkers. They're used to performing in high-pressure situations while keeping a level head.
Leadership in action.

The military excels at building and training leaders. Their mantra is "lead by example" and service members of all ranks are instilled with essential leadership skills. Through years of experience managing diverse teams, veterans know how to motivate their colleagues to produce the best results.
Tech experts.

Veterans have a firm understanding of tech trends that will drive business and are perfectly suited for tech roles. The cybersecurity field is filled with former service members, as their security clearance and understanding of tech threats make them a great asset for defending against cyber-attacks.
Teamwork.

Building trust through integrity and fidelity comes naturally to veterans. Veterans are experts at relating to a team and playing on the strengths of their colleagues to achieve objectives. They also understand the value of selflessness, putting aside ego for the success of the team.
The best way to recruit veterans for your organization is to implement a veteran hiring program or partner with the many organizations that work to connect veteran talent with opportunity. The Department for Veterans Affairs has many great resources for hiring and training veterans. Hiring America's Heroes offers employer training for human resource professionals and runs virtual job fairs and boards with a large network of veterans.