Washington state is currently feeling the effects of the teacher shortage with 70 percent of principals in the state "struggling" to find certified teachers.
Soaring population growth in the Seattle-metro area is only exacerbating the challenges many of the surrounding suburban districts are facing. While South Kitsap School District is feeling the shortage, they have learned how to adapt.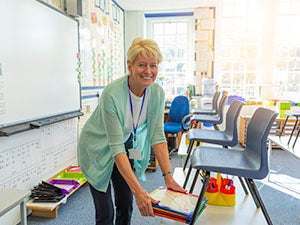 In previous years the district heard from parents that starting the school year without full-time teachers in place is not ideal, and they have responded. The district goes to great lengths to ensure all positions are filled with qualified teachers before school starts.
"One of the most successful strategies we employ is focusing on 'growing our own' such as paraprofessional educators/teacher aides and administrative staff. These people are already invested in students, they are familiar with the school culture and they have a passion for education, they just need the certification," says Misty Dieffenbach, assistant superintendent of human resources at South Kitsap School District and a WGU Washington graduate.
With more nontraditional pathways to certification available, it's easier for districts to meet the growing demand for teachers. This does not mean teachers exploring nontraditional pathways are less qualified. Rather, alternative pathways, such as WGU Washington, are designed for individuals who are seeking to change careers or who are already working in the schools and want to transition to full-time teaching. Compared to traditional programs, alternative routes to certification tend to be shorter, more convenient, and more affordable.
In addition to the challenge of finding certified teachers, there are multiple factors contributing to the shortage. Enrollment growth is the main driver, but the state initiative for smaller class sizes and competition from the private sector, specifically in STEM-focused careers in our area also have significant impacts on attracting and retaining qualified teachers.
Even with the high demand for teachers, and therefore strong job opportunities upon graduation, a report from the National Education Association (NEA) says the number of college freshmen planning to major in education has dipped to its lowest point in nearly 50 years.
"We need to get more people excited about becoming teachers. But it's tough. It's overregulated, they're underappreciated and underfunded. Those who are already teachers, love it and they take their role seriously. Translating that to the next generation is our task at hand," says Dieffenbach.
Shortages will continue, districts will adapt and discover alternate pathways, but qualified teachers are going to be the hardest to attract due to generational attrition and the appeal of higher-paying jobs.
This is one of many reasons we are committed to increasing access to higher education. Click here to learn more about WGU Washington's high-quality, affordable, career-focused degree programs with student success at the forefront.