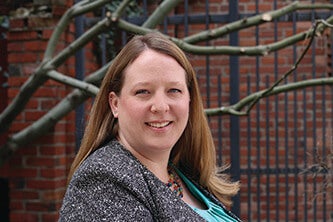 WGU Washington inducted GSI Education Attainment Navigator Jodi Strote into the university's Sage Society.
Greater Minds, an initiative of Greater Spokane Incorporated (GSI), provides working adults resources to ensure they have the opportunity to return to school and finish their degree or certificate. Greater Minds also works with businesses to incorporate an education attainment philosophy by emphasizing career development.  
Among the leaders providing these educational pathways is Jodi Strote, the Education Attainment Navigator with Greater Minds and the latest inductee into WGU Washington's Sage Society.
Like a hall of fame, the Sage Society honors and celebrates individuals committed to high-quality education and the pursuit of learning opportunities for others.
In her role with Greater Minds, Jodi assists individuals considering going back to school and improving their skillsets. She helps evaluate options, identify opportunities, and guide prospective students toward the programs best-suited for them. She also works with businesses to establish an education attainment philosophy focused on closing the opportunity gap, along with incorporating tuition reimbursement programs and flexible work environments.
"The work Jodi does supporting the Greater Minds initiative helps strengthen the Inland Northwest workforce – and changes the lives of the individuals she serves," said Dr. Tonya Drake, Chancellor at WGU Washington. "She helps those individuals find the educational options that best suit their personal circumstances and goals – and sets them on their way to important, in-demand credentials."
Strote was inducted into WGU Washington's Sage Society during a brief ceremony this morning at the GSI offices in downtown Spokane, Washington. Among those in attendance were GSI's CEO Todd Mielke and Director of Education & Talent/Spokane STEM Meg Lindsay.