by John Sharify
As we drove north from Seattle, on our way to visit with WGU graduate Kim Larsen in Mt. Vernon, Washington, I thought about the questions I would be asking. 
The obvious question: How do you explain it? The 'it' I'm referring to is waking up one morning and sounding like you're from Sweden? 

"Fresh off the boat," she explained. "It was just a thick, thick, thick, Swedish accent."  This happened five years ago. Kim had developed a neurological condition that preceded this new way of speaking. There's a name for it. It's called Foreign Accent Syndrome (FAS).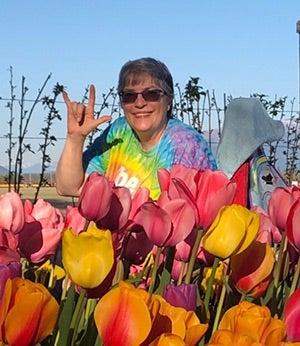 Kim Larsen
"They did a video scope of my voice box," she explained. "And you could see the folds where one of them was popping open too often and so I was having spasms in the vocal cords."  
FAS is most often caused by damage to the brain caused by a stroke or traumatic brain injury. Doctors weren't able to tell Kim, conclusively, why she developed FAS. Some things, I guess, you just can't explain. 

Kim will tell you "my foreign accent syndrome has faded." Relief! 

Fast forward to today and Kim will tell you, with pride, she has earned her Western Governors University bachelor's degree in Interdisciplinary Studies.  Congrats, Kim!  

And that's not all. 

Kim Larsen also had the honor, in May, of giving the graduation speech at WGU's virtual commencement ceremony. 
"I wanted people to know that everybody's going to face obstacles," she said. "I had quite a few the last five years or so. And I persevered through and I accomplished something that I had wanted ever since I was a young kid, to be a teacher. " 

Kim hopes to land a full-time teaching job in the fall.  

Looking back on her journey:  "I had a choice," she said. "I could sit in the dark and cry or I could find the humor in it. And so you have to laugh at yourself." 

Kim concluded her commencement speech with these inspiring words for the WGU class of 2021:  "Now it's time for you to go out there and follow your dreams. Keep going. Keep dreaming. Keep being the very best that you can be. I'm living proof, dreams come true." 

Her dream. Well, she had two. Actually, three. Stop speaking with a Swedish accent. Done. Get that WGU degree. Done. Land a teaching job. 

Still waiting. 
Below, you can watch Kim Larsen's WGU commencement speech.