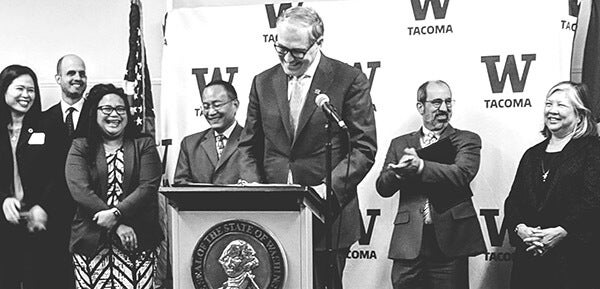 Gov. Jay Inslee and other government and higher education leaders detail plans to revamp the state's financial aid program at the University of Washington, Tacoma, January 11, 2019.
For many Washington residents, the dream of a college degree is just out of reach. It doesn't pencil out because of high tuition costs and other financial barriers. However, as the Washington State Legislature kicks-off its 2019 session this week, those education-hungry women and men could be getting a long-awaited hand-up: Gov. Jay Inslee has laid out a plan that will transform the State Need Grant (SNG) into Washington College Promise, a revamped financial aid program guaranteeing more than 93,000 eligible Washingtonians have access to the resources they need to go back to school.
For decades, the SNG has been the heart of the state's financial aid system. Thanks in large part to the efforts of WGU Washington's founding chancellor Jean Floten, WGU Washington students were first allowed to participate in that program in 2013. Still, for those students and many others across the state, the SNG has been chronically underfunded, and there was no guarantee they'd get the assistance they needed. In fact, during the 2017-18 academic year, more than 1,350 WGU Washington students received the SNG, but nearly 1,000 others were eligible but left out in the cold due to a lack of funds. 
By changing the program to Washington College Promise, the state will eliminate that problem. It will fully invest in its financial aid system, and – by extension – its residents that know a postsecondary credential will help them in their careers and to provide better lifestyles for their families.
"Every student in Washington state should have the opportunity to get the higher education they need. I'm excited to talk about the big steps we're taking to make this opportunity a reality," said Inslee in a statement released by his office. "A student's financial situation should not prohibit them from pursuing their dreams. The Washington College Promise scholarship is our next step in making sure our students can compete for the careers of tomorrow."
The Washington College Promise would ensure in the next two years, all students whose families make 70 percent or less of the state's median family income will get help paying for college. However, that guarantee is no sure thing. Lawmakers in Olympia will need to accept Inslee's plan – part of his larger 2019–21 budget proposal – during the current legislative session. The Legislature will work hard to determine what programs are immediately actionable and in the best interest of the state.
For now, a bright ray of hope shines across the Evergreen State. After years of waiting, for many Washington residents, the dream of a college degree could soon become a reality.