"It is my honor to convene the 2018 WGU Master's Commencement Ceremony in Seattle."
From the podium at Seattle's KeyArena, WGU Washington Chancellor Dr. Tonya Drake opened the festivities celebrating the graduating class of 2018.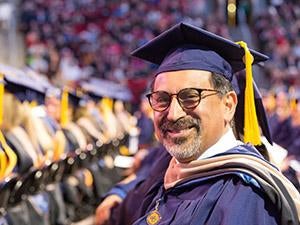 Over the course of two ceremonies that day – one for advanced degree recipients and one for graduates receiving bachelor's degrees — the long journey to a hard-earned, well-respected university credential culminated for women and men from 38 states, military installations overseas, and Canada.
Among them, WGU Washington celebrated its seventh graduating class. With more than 3,000 Washingtonians earning bachelor's or master's degrees over the previous twelve months, the class of 2018 marks WGU Washington's largest graduating class since the university's founding in 2011. This year's class represents 39 counties and 270 cities across Washington state. Additionally, an impressive 33 percent were the first in their families to earn degrees.
"Congratulations to WGU Washington's graduating class of 2018! We could not be prouder of our graduates," said Drake. "Our students are incredibly hard-working, self-motivated, and dedicated. WGU Washington graduates continue to make a large impact on our state and prove the transformative power of a high-quality education."
Look here to see photos from the 2018 Commencement Ceremony in Seattle.
Providing the keynote address during both ceremonies was Bill Stainton, an Emmy-winning TV producer, writer and performer, and one of the minds behind Seattle's own Almost Live! Now serving as a leadership coach and speaker, Bill is adept at delivering thoughtful and engaging remarks that strike the perfect balance between information and entertainment.
"I actually dropped out of college after about two years," said Bill. "I realized that I was attending simply because it was what you did after high school — but I didn't know why I was attending. After a year and a half, I returned to college and graduated magna cum laude. I have so much admiration and respect for the graduates of WGU Washington. It's wonderful when people choose to return to school and continue their journey of life-long learning. I'm excited to be a part of that special day and help them celebrate their accomplishments."
Before the recessional and the end of an unforgettable day, WGU's Provost and Chief Academic Officer Marni Baker-Stein reminded the graduates of the lasting importance of their achievements.
"For many of you, earning a diploma is the fulfillment of a lifelong goal," said Baker Stein. "The academic degree you've earned at WGU will open doors for you and allow you to explore new opportunities. But it's important to remember that commencement is not the end; it represents a new beginning. I encourage you to explore your dreams, dare to discover, and follow your passions. Whatever you choose to do, do it as well as you possibly can and great things will follow. Learning is a lifelong journey and one that is now a habit of both your mind and your heart. I urge you to continue this journey."
Warmest congratulations to the Class of 2018.